Hannibal Season 3 Episode 8 Review: The Great Red Dragon
Robin Harry at . Updated at .
This week gave us another great installment of Hannibal, as Hannibal Season 3 Episode 8 brought someone new that I've been looking forward to since this show started. Francis Dolarhyde, y'all. The Red Dragon is here.
Off the bat, I have to say Richard Armitage and Hugh Dancy were both on fire this week. They were fantastic as they wordlessly brought us through changes in their characters.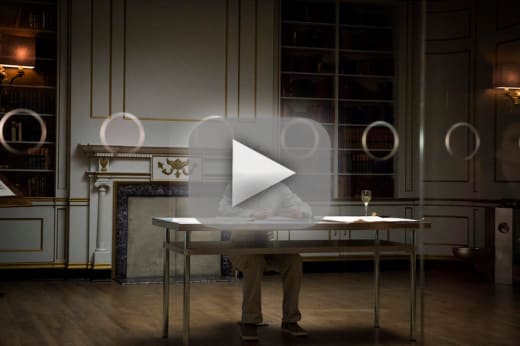 We met Dolarhyde in the first five minutes of the episode, and it was a fantastic five minutes. There was no dialogue, nothing spoken. We just saw the man becoming the monster before our eyes. It was mesmerizing and disturbing all at once, and Armitage was positively captivating without saying a word.
We saw him get the snaggle-tooth mold which he uses to bite his victims. We saw him getting his tattoo. We saw his growing obsession with William Blake's "The Great Red Dragon" paintings. Even as we watched him move in silence, Francis Dolarhyde had already started getting inside our minds.
One of the first scenes we saw was Dolarhyde working out in his attic. Not unlike Hannibal Lecter, Dolarhyde is an attractive, physically appealing man. He is strong, ripped, and I swear they made him flex his right pectoralis major on purpose in one scene. However, we can't be caught up in his appeal.
The presentation of these characters who are gorgeous on the outside, but monstrous on the inside, is a direct challenge to us to be mindful of what we see. On a show like Hannibal, we cannot ever separate the aesthetics from what they represent. The beauty on this show, whether in the people or in the cinematography, almost always represents something dark and disturbing.
After seeing Dolarhyde, we learned that the episode took place three years after Hannibal Lecter was arrested. A lot had changed in that time. Most of all, Will Graham.
Before we even saw Will, we saw where he lived. We saw a lake with the stillest waters imaginable, with a clear reflection of the landscape on the surface of the water. That lake represented Will's new life: calm and still, with an ability to see himself clearly without the murkiness of Hannibal's entanglement.
Will now had a wife and a stepson, and a quiet life away from the madness of the FBI and Hannibal Lecter. Unfortunately, the Tooth Fairy murders sent Jack Crawford running for Will's help. Will found himself in the same predicament as he did in Hannibal Season 1 Episode 1, being forced to sacrifice his sanity for the greater good.
Jack promised Molly, Will's wife, that he would make the experience as easy on him as possible. However, he told Alana Bloom almost the same thing in the beginning. We've heard that promise before, and we know that it's not a promise that Jack is able to keep, no matter how much he wants to keep it.
When Hannibal Lecter is a voice of reason, you know things are messed up. Hannibal wrote a letter to Will, anticipating Jack's request and warning Will not to come back, for the sake of his sanity.
Dear Will, we have all found a new life, but our old lives hover in the shadows. Soon enough I fear Jack Crawford will come knocking. I would encourage you, as a friend, not to step back through the door he holds open. It's dark on the other side, and madness is waiting.

Hannibal
However, there's no avoiding the madness for Will. My favorite scene was Will's walkthrough of the murder scene, and this is where Hugh Dancy shone. At first he was just walking through, observing, but then he got to the bedroom, and saw the blood spatter everywhere.
You could see the horror of it register on his face, along with the realization that this was the mind in which he was going to have to immerse himself. You could see him steeling himself for what he was about to do, what he was about to experience. You could see how hard it was for him to do. Hugh Dancy was amazing. I've missed that version of him.
Hannibal, in the meantime, was locked up at Frederick Chilton's prison. Frederick and Alana lied to the courts, having Hannibal declared insane just so that he could spend the rest of his life institutionalized. It seemed that Frederick had enjoyed a bit of celebrity status as the psychiatrist who watched over Hannibal Lecter, and wasn't quite ready to give that up.
I suppose it's easy for me, as a viewer, to see what a ridiculous idea that was. I suppose that from their point of view, they don't see the potential havoc that can still be wrought by a living, breathing Hannibal Lecter.
Hannibal's incarceration is fascinating. He turns his cell into his memory palace, and greets visitors as guests in different rooms, presenting them with meals and drinks that are suited for them. He's created a way to survive being stuck in a cell and still have his freedom.
Frederick Chilton brought up an interesting comparison of Hannibal and the Tooth Fairy. Hannibal's murders were all fancy and aesthetically pleasing, catering to a very specific interest group. "Niche" was the word Chilton used. By contrast, the Tooth Fairy's murders were non-selective, simple and just plain brutal. The Tooth Fairy had a wider appeal.
Now, does that sound like a show we know? Do we know a show with a niche appeal using cinematography and art direction to portray murder in some of the most beautifully grotesque ways possible? Compared to other shows about killers with no such application of aesthetics, that own the ratings every week? Heh.
Will unfortunately realized to be able to find the Tooth Fairy, he had to go back into the madness. By the end of the episode, he realized he had to become that person that he had put aside three years ago. He had to get that mindset back. He had to go see Hannibal.
Other notes:
The relocation to Baltimore brought back two characters I'd been missing dearly: Brian Zeller and Jimmy Price. I have missed their wit and their banter!
The pendulum is back. The forensic team is back. The dogs are back. This episode has brought back all the little things that make me happy.
My favorite visual would be Will's flashlight at the murder scene. I loved how it revealed the victims as he shone the light over where they had been.
And of course, the cannibalism joke of the week. It's a good one, courtesy of Hannibal Lecter:
Chilton: You've made this dessert for me before.
Hannibal: One of my favourite desserts. Traditionally made with pig's blood, in this case, a local cow.
Chilton: And when you last made it for me?
Hannibal: The blood was from a cow, only in a derogatory sense.
What did you think? Were you happy with Francis Dolarhyde? How do you feel about Will back in the game, and having a family? Also remember that you can always watch Hannibal online.