Poor Anita. I wouldn't be surprised if she grew a backbone and just packed her bags and bid adieu to the Hawkins clan.
On Humans Season 1 Episode 5 Mattie finally flourished into the character we knew she would become and took off with Anita in a bid to reunite her with her band of super synths. I wholeheartedly agree with her actions. Beneath the surface Mattie knows something isn't right with Anita.
She isn't like the other emotionless synths we've witnessed on the show, and that's what makes it so great.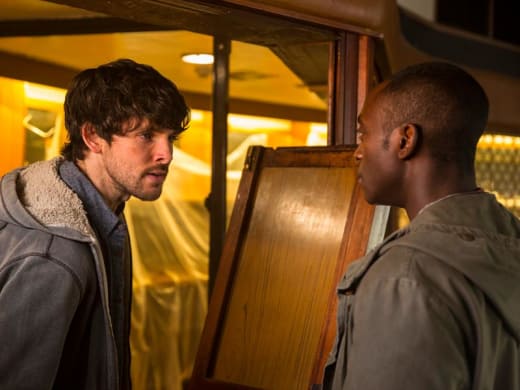 The fact that Mattie essentially put her life on the line for Anita proves that she DOES care for her, as much as she'd like her family to believe she doesn't. Is anyone else enjoying Mattie and Leo's scenes? These two have so much in common, right?
Laura really frustrated me this week. She has proven to be a smart woman, but the fact she didn't realize Joe stepped out on her with Anita was a bitter pill to swallow. She should have been wondering why he has suddenly changed his mind to get rid of her. She sure done the right thing by sending him packing, but I'm unsure where the Hawkins' storyline goes from here. 
I was confused whether Toby took the fall about sleeping with Anita and with the way the scene was edited, it sure looked like he lied just to have her stick around. He obviously didn't want a rift in his family, but I'm glad Joe actually came clean and the show didn't turn in to Days of Our Lives.
Niska's journey continued to excel. Her meeting with George and Vera was pretty hilarious. I thought Vera's head was going to explode when she couldn't get a reading from Niska. I was a little surprised that George didn't know she was a robot. He couldn't take his eyes off of her and with good reason. He's never saw a synth who acts so lifelike. In an ideal world, George's storyline would conclude with Odi returning to him all new and improved, but Steve would like the opposite. 
Steve's continued resentment towards synth cost him his relationship. I can't wait to see his reaction when he finds out his partner is one of them. Honestly, I don't see his relevance at this point. There are too many people gunning for this group, and if someone needs taken out of the equation, it's him. 
My main negative for the show is that this storyline with Steve is dragging out and it's wasn't all that interesting to begin with. I get that the opening episodes of any show are going to be transitional as the powers that be mould the show based on feedback. I'm expecting there to be A LOT of changes next season. Some of the characters just aren't cutting it. I'd like Mattie to stick around and work with Leo and the band of misfits. 
"1.5" was the best episode to date, and it changed the direction of the show for the better. I'm really excited to see how the season concludes. 
Remember you can watch Humans online, right here on TV Fanatic. Get caught up on all the drama now!
Note: Humans Season 1 Episode 6 airs Sunday August 2 at 9/8C on AMC. 
Paul Dailly is a staff writer for TV Fanatic. Follow him on Twitter.