The Real Housewives of New York City Season 7 Episode 15 Review: Don't Be All, Like, Uncool

Christine Orlando at . Updated at .
Who miss placed their naked man and who was uncool about it on The Real Housewives of New York City Season 7 Episode 15? We recap the drunken debauchery in this week's +/- recap.
Bethenny left scary island, aka Turks and Caicos, early and man, did she miss all the fun! Of course if she was still there would the naked man have been sleeping in her bed?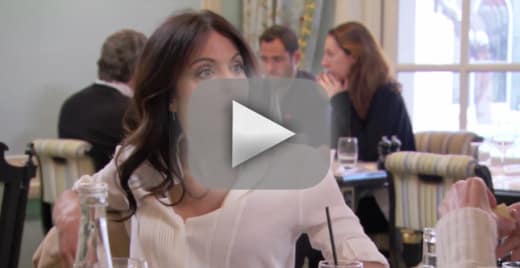 Plus 20 to the first revelation of the night: Heather sleeps naked,which would be perfectly fine if she wasn't walking into strange naked men through the adjoining bathroom. Oops. 
Heather definitely freaked but it was hard to blame her. You generally don't expect to find a strange naked man sleeping in the next room…at least not one without a keeper. 
Speaking of which, who lost the naked man? Minus 45 because no one was willing to claim him. Ramona played dumb and pointed the finger at LuAnn. LuAnn admitted to having her own naked man but she was so hungover she could barely remember his name…or his friend who we're assuming was the naked man in question. 
While Heather and Carole flipped out, LuAnn was offended but still earned a plus 30 with the line of the night in this The Real Housewives of New York City quote…
So be cool. Don't be like all uncool.

LuAnn
Apparently everyone missed the chapter in LuAnn's book "Class with the Countess" about handling anonymous one-night stands. Is there a chapter on sleeping with married men because LuAnn seemed unfazed to hear that the guy she was with was married. Minus 50. Sleeping with someone else's husband: very uncool. 
As Carole pointed out, finding the strange naked guy was a clear sign that it was time to go home but that didn't mean the drama was over; not by a long shot. 
Back in NYC, Carole caught Bethenny up on all she missed. There was what will go down in history as the "F-U" dinner where Dorinda fell off her martini train. This lead to Bethenny's spot on imitation of Dorinda while drunk. Plus 27.
Dorinda's excuse was that she'd been drinking since 10:00 a.m. and that she didn't get her nap that day. She normally takes a nap every day at 4:00 p.m. 
Later, Carole met up with Kristen and Heather at an exercise class. Plus 10 because I loved that Carole hates to exercise but Minus 15 because I hate that she can look that good without it! 
Kristen decided to throw a Diamond and Denim charity event and invited all the ladies to come bedazzle some over priced jeans to auction off. 
Plus 33 to Bethenny who bedazzled and split as soon as humanly possible. If only the rest of us could have done that then we wouldn't have had to endure the latest ridiculous argument. 
After having some time to sleep on it, LuAnn decided that she's the injured party in the naked man debacle as she accused Heather of being on a witch hunt to catch her in bed with some guy. Minus 40. Is she serious? She even claimed that Carole apologized for Heather being on the rampage, something that Carole vehemently denied. 
LuAnn was looking less classy by the minute. Apparently bringing strange, married men home for the night is fine but don't enter her room without her say so.
Finally, Ramona fessed up. She apologized for leaving her naked man in Heather's adjoining room. Was that really so hard? 
But now Dorinda jumped into the fray. Minus 23. Was she drunk again or simply in need of another dirty martini and a nap? Stop the meddling Medley!
Episode total = -53!                            Season total = -281!
Tune in next week as the drama continues and if you can't wait for more, you can watch The Real Housewives of New York City online here at TV Fanatic. 
C. Orlando is a TV Fanatic Staff Writer. Follow her on Twitter.