True Detective Season 2 Episode 6 Review: Church in Ruins

Carissa Pavlica at .
Contracts with signatures all over 'em and a big land deal? Say it ain't so!!
I don't think it would be possible to make this season any more of a snooze fest. Talking about contracts with signatures as our dour gang of detectives are ready to peal out of a driveway in one of the most exciting scenes thus far? Yep. That's a thing.
Despite the fact little to no headway was made in the overarching case on True Detective Season 2 Episode 6, there were some moments that stood above the rest making it not all cringe inducing. Let's take a look.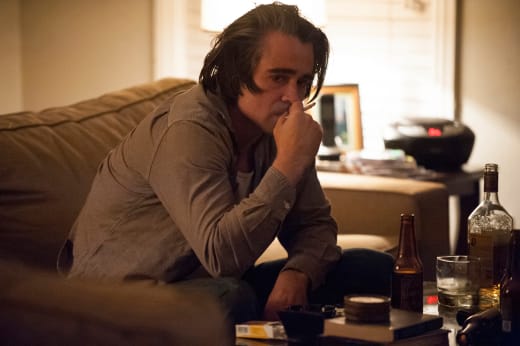 Following up on the last scene of True Detective Season 2 Episode 5, the hour started with the meeting between Ray and Frank which ended amicably. Frank swore he didn't set up his friend and promised to deliver the person who named the wrong guy in exchange for Caspere's hard drive. 
It was kind of surprising how quickly the two arrived at this disposition, yet they've been friends for so long and been through so much, I suppose it shouldn't have been a surprise at all. I shouldn't have been so keen to sell Frank down the river. His bad guy gone good, gets sucked into being a bad buy again routine isn't a shtick. 
I wish I could say I understood who Frank and his wife were meeting with and offering their condolences, but I didn't understand the connection to the overarching theme, and I didn't really care. What I do know is this was the hour Vince Vaughn was given the least insufferable dialog to play with and it was much more comfortable having him around. He even got to get a little comedic.
That's one off the bucket list. A Mexican standoff with actual Mexicans.

Frank
Ray's supervised visit with Chad was as uncomfortable as it sounds. The poor guy cannot catch a break, and he ultimately sent Chad home early so he could go on a bender. The bender was one of the best things to happen to True Detective Season 2, as it offered vibrant music while Ray flew off the rails and thought he was suffering a cocaine heart attack. 
Making a deal with his ex, Ray let Chad go with her word she would never announce to Chad his true paternity if it turned out to be someone other than Ray, although she admitted she would go through with the test regardless. Is she trustworthy? Who knows. Ray will likely walk out of their lives on the promise.
Ani and Paul were investigating the murder shack and making plans for the hooker party. The party was another highlight, as it brought to light some interesting issues from Ani's past and allowed her to finally prove she had what it takes to overpower a man with her knife-wielding prowess.
Did you notice the bizarre music throughout the party scenes, especially after she was drugged? It was reminiscent of a 40s noir film. The music this season always indicates something important or interesting is impending, but rarely follows through.
Nonetheless, Ani was almost asked to partake in some pretty awkward sexual orgy unpleasantness. Considering she is supposed to have a healthy and unusual appetite in the area, you wouldn't expect her to be quite as freaked out as she was, but it affected her greatly.
The drugs and the surroundings apparently sent her back to memories from her childhood, and if her dad knew what she experienced, shame on him. That will have to come up again in the final two installments.
I have to call foul on Ani's ability to clear her drug-induced haze by vomiting. Um...it just doesn't work like that, although I appreciate the effort. Once her head was cleared, she made a discovery. Surprise, surprise, Vera Macchiato (sure sounded like macchiato) was alive and well(ish) enough to be rescued from the event.
That's when we were treated to a quick turnaround at the end of the episode when Ani got to knife a couple of fellows (one to death), while Paul stole documents, and Ray seemed to beat another guy to death outside the compound before they squealed away and the bender music rode up again. 
Of course it took pretty nefarious things happening to our characters for the music to turn from the dour depressing lounge singer chick to the wannabe Sex Pistols type of band, but hey, I'll call it a win.
Frank is close to finding the hard drive and our gang has contracts. What does it all mean? Sadly, I don't care. It's hard to care about the characters, but harder to care about the case.  
They're going to be in a bit of trouble from the looks of the preview and in need of an escape plan. Hopefully they'll have some fun with it. At least get a bit more Bonnie and Clyde before they shut the door on the season. There's no way they're all going to make it out alive, right? Who will die? And will it be a blessing or a curse, their death?
The best thing about this hour was the slight change in pace, switching up the music and letting our characters break out of what has become their standard operating procedure. They should have done it a lot sooner.
Carissa Pavlica is the managing editor and a staff writer and critic for TV Fanatic. She's a member of the Critic's Choice Association, enjoys mentoring writers, conversing with cats, and passionately discussing the nuances of television and film with anyone who will listen. Follow her on Twitter and email her here at TV Fanatic.