Well, that didn't take long.
Certainly, having a man on the inside helped speed Barry's mission along, but who expected to find Daliyah with so little effort? But his rescue mission still managed to hit a snag on Tyrant Season 2 Episode 7.
Sammy is finally starting to grow up, but his uncle seems to be regressing back to his old ways. The Al Fayeed family is a house built on shifting sands, and a strong wind blew through tonight. Familial discord is staring them in the face.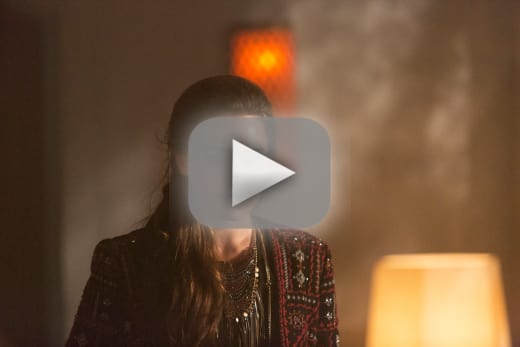 Barry might have located Daliyah with ease, but freeing her proved to be more difficult. Seriously, was that prison cell already in the house, or did Abu Omar have it specially installed for Ahmos' wife?
I really enjoyed the bottle episode approach to their story with Samira. It allowed the writers to really delve into her motivations, which previously had been murky. The bombing of Ma'an changed everything for her. She made her disapproval of the Caliphate's actions clear, but at the same time, she doesn't think that they're worse than any of the other options. 
Barry: I came here to get my country back.
Samira: You should get in line.
As the night wore on, Barry relentlessly tried to appeal to Samira, but he was really only making things worse. In remembering her childhood, she further realizes the futility of rebellion. 
She talked to Barry about how they were both in the room, but neither was the same person, and this theory could be applied to Rashid as well. She was upset that Barry would kill him (faithful to the end), and seemed oblivious that Rashid is the one who has changed the most.  
Barry's attempts at reforming a connection with Samira were just as much about himself as there were about Samira. All of his recollections were framed through his friend, and not the Samira herself. After cutting himself off from the world (Fauzi would have been the perfect person to contact), she allows him to see himself as Barry once more instead of Khalil. 
Can you actually save her? Or are you trying to save yourself?

Daliyah
Barry isn't alone in trying to find his place in the new Abuddin. Sammy's may discover Barry's new identity as her tries to figure out where he fits in the world. It was nice to finally see some growth for the character, it's definitely been a long time coming. 
He was actually pretty shrewd in his visit to Jamal and Leila. He played his pitch perfectly, appealing to Jamal's vanity and love of family. He showed an innate understanding of Jamal's character and insecurities when he equated himself to Ahmed. 
You are my crazy Uncle Jamal, my favorite.

Sammy
Abdul's death is finally forcing Sammy to grow up, and take a long hard look at the world, which is refreshing. Still, I'm not sure that his desire to avenge Abdul is going to work to the Red Hand's advantage. And he's going to be putting himself in a dangerous position without thinking through the risks. But kids don't just grow up overnight.
While Sammy was off taking care of business, Sammy was getting Molly soused. I hope he's not expecting to bill that. As much as love love love Jake Weber, I found Jimmy's pushiness with Molly off putting.
Seriously, it's been maybe a month since her husband died. I'm not saying she should mourn forever, but when she said she wasn't ready, it was rational and he should have listened. Their tryst is going to make things so messy when Barry rises from the dead.
The palace was in upheaval tonight, as Nusrat lost the much anticipated grandson, along with the ability to bear more children. Poor Nusrat. Ahmed is doing his best to be a good husband (something he's actually quite good at), but because he's unaware of so much, he doesn't take her post-op words seriously.
Jamal, of course, thinks that the miscarriage is his fault. Because everything good or bad in the world simply must be attributed to Jamal somehow. He's not as crazy as he was last week (unfortunately), but I doubt this turn of events is going to make him more rational.
So of course Leila steps in. It's too bad she lives in a culture that won't simply let her run the country. Things would probably be better for everyone. As it is, she's basically a couture Edith Wilson right now.
But a rival lurks. Rami might not be actively pursuing the throne at this point, but he's doing his best to mitigate the damage Jamal inflicts on the world. If only he and Leila could team up. Unfortunately, her priority is power, while his is peace in Abuddin. She may have a biting wit, but I admit I'm #TeamRami.
Doctor: Try and stay positive.
Leila: She obviously doesn't know the family.
There was already a lot to look forward to in the second half of the season, and tonights episode only opened up new questions. Will Ahmed take another wife? Will Rami and Nusrat hook up? When will Barry finally reveal himself to the world? Will he even be able to go through with the rebellion?
We'll all just have to tune in next week. Watch Tyrant online and let us hear your thoughts in the comment section!
Elizabeth Harlow is a staff writer for TV Fanatic. Follow her on Twitter.