Hell on Wheels Season 5 Episode 5 Review: Elixir of Life

Sean McKenna at .
"Such a Western notion that the past does not matter, the past can be forgotten."
You'd think that Tao and Cullen helping save Chang's life on Hell on Wheels Season 5 Episode 3 or the two working together to keep the peace and prevent Chang from starting up bloodshed on Hell on Wheels Season 5 Episode 4 would have eased the confrontation between Cullen and Chang.
Did Chang forget those moments?
I guess I should have recognized that Chang's words on the train were going to be a clue to that shocking ending on Hell on Wheels Season 5 Episode 5.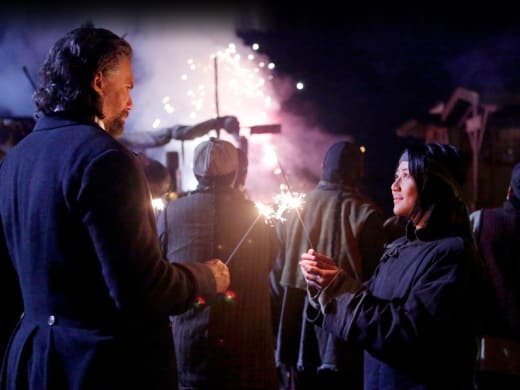 Just seeing Chang and the Swede talking about their common enemy in Cullen, I knew that the storm that had been brewing in Truckee was about to strike. To see these two adversaries to Cullen seemingly coming together was exciting, even if that meant it would be more trouble for the southern hero.
But I, too, was fooled by the niceties that Chang was gracing upon Cullen and Tao during the festival of Tin Hau Don. It felt so weird to hear him speak all the positive comments, but I thought that maybe, just maybe, Chang was changing his ways and moving forward.
Perhaps he would be an ally to Cullen?
I certainly thought that even more so when Chang revealed to Cullen that he had been selling weapons to the Swede. Which was true. But it was the perfect diversion to send Cullen away from the festival, away from Tao, and towards the Swede.
That whole scene where Cullen confronted the Swede was tense, and I thought the two were going to throw down. Seeing those two together is always a highlight, even when they are giving simple looks between each other.
Christopher Heyerdahl gives such mesmerizing and chilling performances as the Swede. Watching him manipulate Phineas in the barn, telling him he was the new prophet, was scary. We all know what he's up to, and it's dangerous.
But this wasn't the hour for the Swede's big play. This was Chang getting his revenge on Cullen.
I was bummed that Tao was shot as I liked his character and his ability to work well with Cullen.
Just to hear Chang call back to the law that Cullen had cited him, that Chinese can't testify in the murder, was so cold. I can't believe Chang did that, but unfortunately, Tao was caught in the middle of a power play and suffered the consequences.
I think it's going to put Mei even more in the spotlight, and I worry for her safety now. She's going to wind up a target.
Cullen has definitely a lot more to contend with, and I have no clue how he's going to take down Chang and the Swede.
The hour also focused on the characters from the earlier seasons, including Eva dealing with the prostitutes and Louise's big decision. And Durant talking about his real estate deal was a clever one, but it just couldn't match the intensity and engaging aspects of Cullen's current story.
If anything, I'm more curious to see if and when Cullen will get back involved with those characters. Maybe with this uphill battle, he'll have to call on the likes of Mickey or Durant? Psalms? Maybe?
Things may have started off relatively tame, but the episode picked up in such a riveting way right on down to that unexpected shooting. This was a great hour for Hell on Wheels Season 5, and I'm really liking how this final season is shaping up.
Were you surprised by the shooting? Can Cullen stop the Swede? Sound off below! Plus, be sure to watch Hell on Wheels online to catch all the action in Truckee.
NOTE: Hell on Wheels Season 5 Episode 6, "Hungry Ghosts," will air Aug. 22 at 9 p.m.
Sean McKenna was a TV Fanatic Staff Writer. He retired in May of 2017. Follow him on Twitter.