Hell on Wheels Season 5 Episode 6 Review: Hungry Ghosts

Sean McKenna at .
Even after death, life moves on.
And we've seen a lot of death on Hell on Wheels as many of the characters close to Cullen have met their untimely fates.
It makes me worried for Mei, and considering it is the final season, it has me worried for Cullen himself.
But after the shocking ending on Hell on Wheels Season 5 Episode 5, the follow-up was a much quieter focus that brought Cullen and Mei even closer together.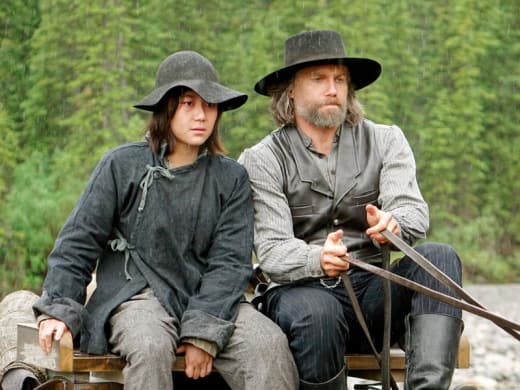 It looks like the eventual fates of Mei and Cullen will just have to wait to be revealed.
Instead, the two tried bringing Tao's body home.
Tao didn't quite make it, but Cullen and Mei found a way to send him off in a positive manner. It was great to see the little candle ceremony as well as the two discuss their losses.
The bond that Cullen and Mei share had me wondering where the series might take their relationship. From Mei changing into different clothes to inviting Cullen into the tent, I kept wondering if the two might get more intimate.
On an emotional level, there's something personal and special that both Cullen and Mei share. Cullen even admitted to losing his wife and child to Mei, and he also thanked Mei at the very end of Hell on Wheels Season 5 Episode 6.
There was some fantastic acting from both Anson Mount (seriously underrated) and Angela Zhou (a great addition to the series) as they touched on some very human and tender moments. These two work so well together and really find a way to get deeper when it comes to their characters.
I just can't help but worry for them, the closer they get.
At the same time during the hour, Brigham Young showed up to chat with Thomas Durant, discussing Collis Huntington's railroad route. He seemed certain to make a deal with Durant, but I wonder if that might wind up backfiring in the end.
But I'm not sure Brigham is ready for the manipulated Phineas. How upset did the Swede look after learning of Brigham's orders? Does that mean his master plan might be put into action much sooner?
I just hope Cullen isn't stuck worrying about the railroad with Ulysses S. Grant when the Swede makes his big move. I can see that happening.
As for Louise, as much as I haven't really enjoyed her character or her ability to narrate the story at the end of the hour, it was hard watching her struggle after Eva got involved with ending her pregnancy. I just wanted to tell her to hold off on writing a story and worry about getting better. She definitely did not look well.
If anything, this hour felt like the calm before an even bigger storm, and I can't help but wonder what major event might take place before the second half of Hell on Wheels Season 5 returns next year.
Something's about to go down, and I'm nervous to find out what.
What do you think of Mei and Cullen's relationship? Are you ready for next episode? Sound off below, and catch up when you watch Hell on Wheels online now!
NOTE: Hell on Wheels Season 5 Episode 7, "False Prophets," airs Aug. 29 at 9 p.m.
Sean McKenna was a TV Fanatic Staff Writer. He retired in May of 2017. Follow him on Twitter.