Mistresses Season 3 Episode 11 Review: Guilt by Association

Whitney Evans at . Updated at .
Is Calista guilty?
It sure seemed that way when that video Daniel procured showed a women wearing her favorite ring driving into her house around the time of Luca's murder. Ever since that night, Calista has been a pretty shadowy figure, and it's been hard to figure out if she had anything to do with Luca's death. 
Mistresses Season 3 Episode 11 probably put you firmly on "Team Calista Did It" or "Team Calista Is Being Set Up." I'm thinking Calista has been set up. What team are you on?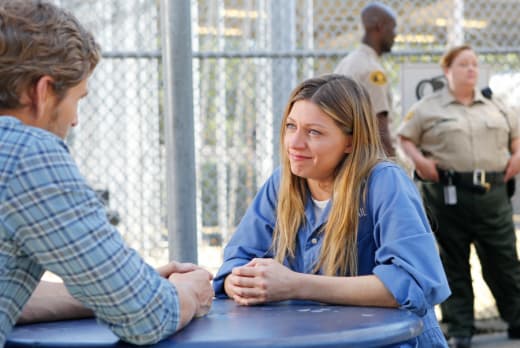 I've been a loyal fan of Calista since she was introduced, but my love for her has waned each week, as she really left Joss out to dry. I understand that in the beginning she was only trying to protect herself, but Joss is sitting in prison and some honesty from Calista could have gone a long way in helping Joss. 
That being said, I still don't believe Calista killed Luca. The tape is damning, but isn't it possible that someone could have dressed up as her, like Calista claimed? Sure it is! The only thing I can't quite figure out is who else knew about Joss and Calista's plan?
That person is the killer. 
With Calista and Joss being tapped as co-conspirators, I'm thinking they will team up to figure out who the killer is. I don't know if their friendship can be repaired just yet, but I have hope. The selfish part of me really misses those two and their chemistry!
Speaking of chemistry, wasn't it nice to see Joss and Harry together again? And seemingly happy?
Harry: I'll do anything for you, you know?
Joss: I know you would. I love you for that.
Harry: I love you.
As we discussed in Mistresses Season 3 Episode 10, for Joss, all roads lead to Harry and there's just no sense in fighting it anymore. I'm hopeful that once Joss is freed, these two kids can actually make this thing work. 
Side note, is Harry just the most irresistible man on the planet? Every girl he meets wants to jump into bed with him. Don't get me wrong, the man is good looking but first there was Niko and now there's Ari throwing herself at him. I don't know that I'm seeing it. 
Elsewhere, April had to decide whether or not she was going to tell Blair about Daniel. I always knew she would and at first I thought this story was going to be pretty straightforward, but I'm glad I was wrong. 
I've been very vocal about my disdain for bratty Lucy, but for the first time tonight, I actually came around and started to see what she was going through. April's slap was completely uncalled for in my opinion, no matter what Lucy said, but it proved to be such a pivotal moment in her relationships with both her daughter and Blair. 
Lucy was finally able to be honest with her mother and confess her feelings. It was good for both of them to understand that Lucy wasn't just mad at her mother, she was also sad. Those two emotions together can be a really awful combination and they manifested into the unpleasant Lucy we've seen all season. 
Their moment at the end was nice and it felt like we finally turned the page on that story. We also closed the door on Blair and I say good riddance! 
Did you guys see the look April was giving Marc at the end? The time has come people! April and Marc are going there. Embrace it. 
In Karen land, she told Vivian and Alec about her pregnancy and after some shock, Vivian wanted them to all raise the baby together. Karen seemed okay with that until she caught Vivian out on a lunch date. 
She of course jumped to conclusions and suddenly didn't want any parts of the threesome idea anymore. Of course her assumptions were wrong though and Vivian dropped the bomb on her. 
I'm sick again, Karen.

Vivian
Any guesses as to where this story is going now?
So many things happened on "Guilt By Association" and I need to hear your thoughts! Were you happy to see Joss and Harry reunited? Are you excited to see an April and Marc relationship? Who really killed Luca?
As this season comes to a close soon, make sure you watch Mistresses online right now, so you're not missing out on the fun!
Whitney Evans is a staff writer for TV Fanatic. Follow her on Twitter.