Rookie Blue Season 6 Episode 10 Review: Breaking Up the Band

Christine Orlando at . Updated at .
Don't run. That was the one thing Sam asked of Andy when they dove into this relationship and in Rookie Blue Season 6 Episode 10, she nearly broke that promise.
Was Andy overreacting when she found Marlo fast asleep in Sam's bed. Yes, a little. Newborns are exhausting and I don't think that Marlo going to Sam for help was unreasonable but I also understood why Andy was upset. She suddenly felt like the outsider in Sam's life.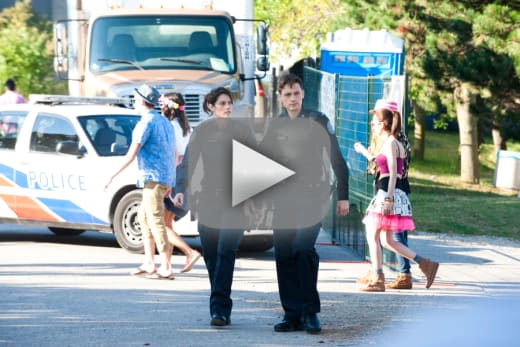 However, I do wish Andy would have made more of an effort to help. She's going to be this baby's step-mother. Instead of complaining that this is hard and she's not a part of this family, she should decide to be a part of this family. 
And does this poor child have a name? Are the trying to torture us by constantly calling her "the baby?"
But back to McSwarek...
Andy fell back on old habits and considered taking Juliet's offer of an undercover assignment, just until the dust settled. The problem with that plan is that after five months away, she might not like where the dust settles. 
Sam was angry, and I couldn't blame him, even if he did take his anger out on an innocent vending machine. Watching Sam have a baby, raise a baby with someone else won't be easy but Sam and Andy won't figure it out if they aren't working on it together. 
Thankfully, Sam made what he wanted very clear in this Rookie Blue quote…
We've both tried running away. We've both tried being with other people but we keep finding our way back to each other. So let's, please Andy, try the one thing we haven't. Let's stay together.

Sam
How do you walk away from that?
Where  Sam and Andy ended the episode on a happy note that included an incredibly adorable puppy, Gail wasn't nearly so lucky. 
I felt horrible for Gail. She was trying so darn hard to do the right thing and I loved the moment when she asked Chris…
Gail: What does my outfit say to you?
Chris: I'm wearing clothes.
That's just so Diaz and it reminded me why I like him, even if I want to throttle him on occasion. 
But back to Gail. Her father was basically telling her that if she didn't lie on the stand, her brother might end up dead. No pressure there! 
Would she have lied for Steve if she'd had the chance? Maybe, and I don't think that makes her a bad person. She loves her brother and doesn't want him to be killed in prison, but I'm sure the lie would have eaten away at her if she had. 
At least Steve did the decent thing and didn't put Gail in that position, even if he did wait until the very last second to make that decision. Also, I'm still quite curious to hear Steve's side of this story. I really wish we'd been able to hear what he wrote to Traci last week.
Watching Gail's face as she listened to the description of the family that wanted to adopt Sophie was heartbreaking. Adopting Sophie was the one thing that gave Gail purpose. Now it appears she may sacrifice that to give Sophie the chance at the perfect family. 
My question is, when does Gail Peck get to be happy?
Nick went after Juliet…but I can't say I really cared. This pairing has felt forced from the start and whether they end up together or apart doesn't much matter to me.
Dov and Andy's investigation into the overdoses at the concert was heartbreaking. Tammy was everything to Bryce and not only did he lose her but now he'll lose his freedom as well.
The only upside was Dov rescuing Chloe. I can't wait to see these two back together again. 
As for the reorganization of 15 Division…ugh. I'm with Traci on this one.
Oliver: Think of it as an opportunity to step outside your comfort zone. Try something new.
Traci: If I want that I'll go to Zumba.
And that's not about to happen. 
Where will everyone at 15 Division end up? Will Sam and Andy actually get married in Rookie Blue Season 6 Episode 11? If you can't wait until next week, you can always watch Rookie Blue online here at TV Fanatic. 
C. Orlando is a TV Fanatic Staff Writer. Follow her on Twitter.