Rookie Blue Season 6 Episode 8 Review: Integrity Test

Christine Orlando at . Updated at .
All the way through Rookie Blue Season 6 Episode 8, I kept hoping that Steve Peck had some reasonable explanation that would make the fact that he looked guilty make sense. 
Unfortunately, the only story that made all the pieces fit was that he was actually guilty which made this a great story and a horrible disappointment. Disappointing only because I really liked Steve. He and Traci had great chemistry and I'm going to miss their banter.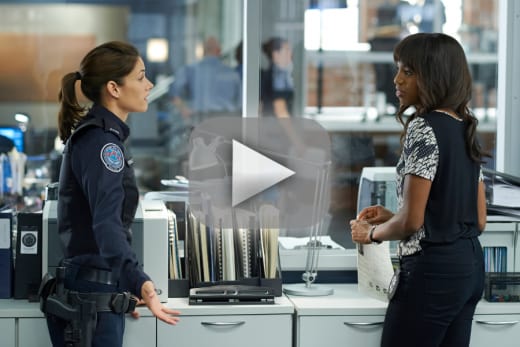 But as heartbreaking as it was to see the destruction of Steve, it made for an intriguing story. Like many corrupt cops, it started with one small step, much like that roof that Oliver worried about 20 years later. Steve did one favor and then another and before he knew it he felt like there was no turning back. 
What was sad was that he had been lying to himself in thinking he could find a way out…or that he could plant a bomb in a busy police station and make sure no one got hurt. It was pure luck that Andy wasn't killed which made it even more compelling when she was the one to catch him. 
Steve was truly desperate in those moments. He tried to lie. He tried to intimidate Andy and then he tried to make it sound as though looking the other way was best choice for her closest friends. 
Later, Andy felt guilty for being the one to bring Steve in, as though she was the one who had ruined so many lives but Sam was correct when he told her that their lives were ruined already, they just didn't know it yet. 
Of all of Steve's betrayals, Traci's was the one that hurt the most to watch and she made things very clear to him in this Rookie Blue quote…
I jumped in with both feet. I gave you a key to my place. I let you into my life. I let you look after my son. I won't be at your trial. I'm not going to come and visit you, so please don't contact me ever again.

Traci
Will this be where Traci and Steve end? Is this the last we'll see of Steve Peck and how will Gail react to her brother being a dirty cop, especially when she just told Nick that she'd cut a liar out of her life like a piece of a bad apple?
The ripple effects of this corruption will be felt throughout 15 Division. Will Oliver come back? He's hurting. The career he gave two decades to just turned its back on him, even if it was only for a day. The reality of that is scary. I hope that knowing he had friends like Noelle, Sam, Andy, Dov, Gail, and Nick willing to stick their own necks on the line to try and prove his innocence will take away some of the sting. 
And in one oddly funny twist, Chris Diaz was outed by Jarvis, who seemed more relieved than angry. Jamie and Chris' affair gave him a reason to leave his crumbling marriage. He almost seemed sorry for Chris that he was now stuck with Jamie. These two could be a wild ride. 
So many relationships were left up in the air after "Integrity Test" that it's hard to know how they will all shake out. Dov and Chloe and Nick and Juliet are two couples in limbo. Traci and Steve are done. The only relationship more solid than ever is Andy and Sam. When an episode ends with McSwarek going home together, it's hard to be disappointed. 
Check back in on Monday to see what our Rookie Blue Round Table Team has to say about this episode and if you can't wait for more, you can watch Rookie Blue online here at TV Fanatic.
C. Orlando is a TV Fanatic Staff Writer. Follow her on Twitter.