Nothing is easy at 15 Division and Rookie Blue Season 6 Episode 9 is no exception. With Oliver Shaw having been proved innocent and coming back to work, things should feel normal again, but they just don't. 
First off, Oliver's decided to forgo the white uniform and hit the streets once again, but is that where he still belongs? 
Dov and Chloe are forced to face their feelings for one another during a heat wave despite all of the hurt and anger that ended their romantic relationship.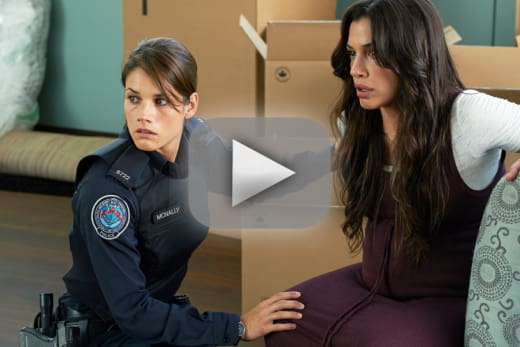 Andy and Marlo end up searching for a woman with bipolar who Marlo believes may be suicidal. Unfortunately she's right but when the woman grabs a knife things get tense...and Marlo goes into early labor. With a power outage in the building and no working elevators, will Andy have to help her deliver she and Sam's baby girl?
Finally, Traci is still furiously angry with Steve and the world in general. Gail tries to deliver one of Steve's letters but Traci refuses to read it. After dealing with another detective's put downs about her last name all day long, Gail reminds Traci that Steve's crimes aren't theirs.
You can watch Rookie Blue online here at TV Fanatic. 
C. Orlando is a TV Fanatic Staff Writer. Follow her on Twitter.