Rookie Blue Season 6 Episode 9 Review: Ninety Degrees

Christine Orlando at . Updated at .
Life was weird at 15 Division as everyone tried to get back to normal in Rookie Blue Season 6 Episode 9. Despite Oliver being cleared, everything still felt a little bit off.
First there was Traci who was furiously angry, not that I blamed her. Steve lied to her, took advantage of her trust and did one of the worst things a cop could do. Still, taking that anger out on Gail didn't seem necessary.
You can walk away from a boyfriend but Steve will always be Gail's brother. And as much as I respect Traci's decision to not read Steve's letter, I really wanted to know what it said.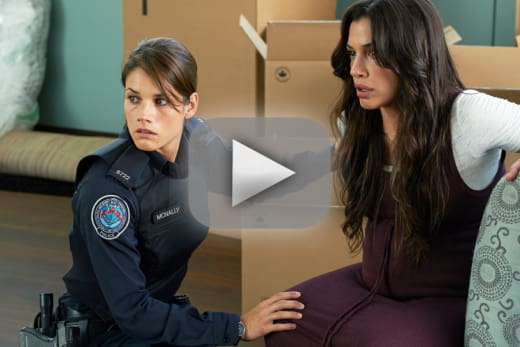 What was up with Detective Anderson? She certainly had it in for Gail. Having the last name Peck has proven to be more trouble than it's worth. But Gail's advice to Traci in this Rookie Blue quote was spot on…
We don't have to wear this. This is not our fault.

Gail
Oliver decided to ditch the podium and go back out on the street…and as much as I loved having him back, I found myself agreeing with Jarvis. Shaw is the perfect person to lead that team, even if he doesn't think so himself. 
Dov and Chloe spent the day babysitting the front desk during a heat wave and I liked how Chloe put Dov in his place when he acted like the assignment was below him. 
I was a little surprised that they didn't warn Bree about the neighbor because he came across as creepy stalker guy to me. I hope he's as harmless as they think he is. 
It was well beyond time for Dov to voice his anger to Chloe. She lied to him, hid her marriage from him. Kissed Wes! And then hid behind her bubbly, free-spirit persona. Once she was shot, Dov was forced to bury his feelings underneath the concern for her welfare. 
I really like these two. They are sweet and funny and oddly perfect for one another…plus that kiss was hot!
Sam and Andy were happy but a little bit off. I guess that's what happens when your fiance is having a baby with another woman. I completely understood why Andy didn't want Marlo invited to their wedding. It's an awkward situation but Andy should be allowed to have this one day to be all her own. 
While Sam figured out that Sadie was selling drugs at the mental health facility, Andy and Marlo went off in search of Sylvia. 
Sylvia's husband was such an ass. I really felt sorry for her. She's lucky that Marlo understood what she was going through. 
I like that Andy and Marlo are good together. Awkward, yes but they both want to do the right thing. There are no bad guys in this relationship and that baby will be all the better for it. 
But in the end I felt sorry for Andy. She felt so out of place. Of course I feel sorry for all three of them. This isn't a perfect situation. No one is getting exactly what they want. Andy has to watch someone else have Sam's baby but, on the upside, she's the one marrying him. Marlo has a beautiful little girl but she'll be going home with her alone and Sam will practically have to clone himself as his heart will most likely want to be with both Andy and his new daughter all at once. 
It's going to be difficult but I have no doubt they'll make it work and I look forward to seeing what comes next in Rookie Blue Season 6 Episode 10. If you can't wait until then, you can watch Rookie Blue online here at TV Fanatic.
C. Orlando is a TV Fanatic Staff Writer. Follow her on Twitter.