Sex&Drugs&Rock&Roll Season 1 Episode 4 Review: What You Like is in the Limo

Sean McKenna at . Updated at . Comments
Belgium may love the Heathens, but I didn't love Sex&Drugs&Rock&Roll Season 1 Episode 4.
The fake death of Johnny in Sex&Drugs&Rock&Roll Season 1 Episode 3 continued to work its magic, to Ira's joy, helping further boost exposure and popularity… just not in the United States.
But the journey overseas to a country craving some Johnny Rock wasn't the episode that would cause me to hit repeat.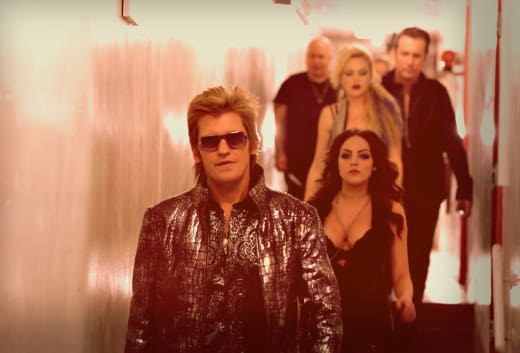 Again, there were some amusing things in the episode, and Rehab continued to shine. Some great delivery from actor John Ales, and some solid quips, have really made Rehab a standout character. He's not just some forgettable bass player.
I also liked the listing of crazy items each member of the band needed backstage before the concert. Snakes, expensive alcohol, and masseuses that look like Johnny Depp and Melissa McCarthy?
I guess the really funny thing is how outrageous the demands are for some real-world rock stars.
It was humorous that Johnny got his big break to re-ignite his career, and he totally failed after taking some of Rehab's pills, hallucinated snakes and owls coming after him, and then ran off the stage. At least he didn't throw up on his audience.
I guess I'm glad that the band hasn't gotten super famous all over the U.S. yet – that would feel too soon – but it is interesting that the series seems much more intent on putting Gigi at the forefront rather than incorporating competition for the lead singer spot.
That's certainly fine, and Elizabeth Gillies has got the pipes to pull off that role. Gigi did manage to save the concert and further solidify her position.
Hopefully, she can keep the animosity between Flash and Johnny at bay because their battle feels forced, and I'm already kind of tired of it.
Sex&Drugs&Rock&Roll still has a likeable cast and set of characters, but this episode just wasn't in tune for me. Let's hope the follow-up turns things back up.
Did you enjoy the trip to Belgium? Are you glad Gigi is the lead singer? Sound off below, and be sure to watch Sex&Drugs&Rock&Roll online for all the Heathens' adventures.
NOTE: Sex&Drugs&Rock&Roll Season 1 Episode 5, "Doctor Doctor," airs Aug.13 at 10 p.m.
Sean McKenna was a TV Fanatic Staff Writer. He retired in May of 2017. Follow him on Twitter.