The Last Ship Season 2 Episode 9 Review: Uneasy Lies the Head

Christine Orlando at . Updated at .
Dr. Rachel Scott was angry. Truly, furiously angry, and despite her quiet demeanor, that anger spilled over in The Last Ship Season 2 Episode 9. 
I found it telling that the crew referred to Niels as a cockroach in the beginning of this episode. It was an apt analogy of the man who killed billions by spreading a virus that couldn't kill him…at least not until it got some help from Dr. Scott.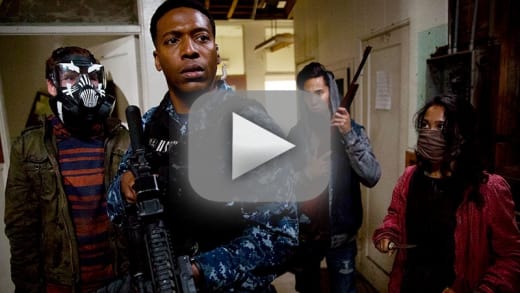 Niels made my skin crawl. From using infected teddy bears to spread the virus to children, to the way he pulled at his beard while he worked, the guy made me feel as though I needed to take a shower every time he appeared on the screen.
It was even more stomach turning that he thought he had any chance with Rachel when she was obviously repulsed by him. The fact that Niels' actions lead to the death of Dr. Hunter, a man she deeply cared about, just added to her quiet fury. 
So when Rachel realized that there was indeed a way to make the cure as contagious as the virus, she made it happen. The fact that Niels' death was necessary didn't seem to cause her any hesitation. It may have even been a perk. 
It was Rachel's quiet, determined, professional demeanor that was frightening. All this time, Niels thought he was in control; he never stood a chance.
Elsewhere, Chandler and his crew went searching for mussels and ran into a group of teenagers living on their own. My first thought was that this would turn out to be a Lord of the Flies type of scenario. Luckily it didn't turn out to be nearly that bad. Chandler bonded with their leader, Ray Diaz, who wanted to be part of Chandler's crew more than he wanted a pay day from the Immunes. 
One of the funniest moments was when Ray tried to describe the Immunes fire power in this The Last Ship quote…
They had guns I didn't know existed and I play a lot of video games.

Ray Diaz
The amused look on Tex' face said it all. 
Cody's death was a tragedy but perhaps a necessary one for a group of kids who thought that killing would be cool. Chandler's advice that, "Being a leader is not about being perfect, it's about weathering the storm and carrying on," was also relevant to the President. 
At the start of the hour, the man was on such shaky emotional ground that he couldn't even figure out what to order for lunch. By the end, he was helping to formulate a plan to outsmart the Immunes when the Nathan James finally got to New Orleans. He also ordered a grilled cheese, thus earning even more respect in my book. 
Check back next week to see what's next for the Nathan James in our review of The Last Ship Season 2 Episode 10, and if you can't wait until then, you can watch The Last Ship online here at TV Fanatic. 
C. Orlando is a TV Fanatic Staff Writer. Follow her on Twitter.