The Real Housewives of New York City Season 7 Episode 21 Review: Reunion Part Two

Christine Orlando at . Updated at .
Ramona's the kleptomaniac, Dorinda has an underbelly of anger and Bethenny told off everyone who needed it in The Real Housewives of New York City Season 7 Episode 21. 
So does Dorinda really not care when John gets handsy with other women on the dance floor? We're guessing Ms. Medley protests a little too much when it comes to Kristen's reaction. Who wants to see their boyfriend feeling up some gorgeous woman who's modeled topless? Minus 22.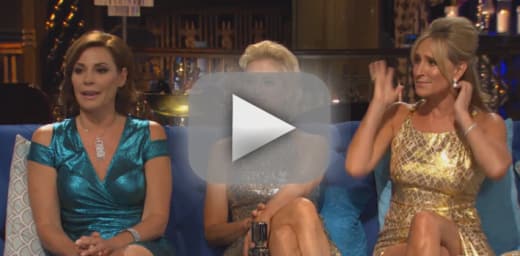 Maybe Dorinda should be a little more wary of Kristen. She could hurt someone with those Pop of Color blinged out nails.
Next on Dorinda's hit list is Heather from what will be forever known as the "F*ck You Dinner." Plus 30 because what's great is that neither one of these women can remember exactly who said what to whom but they're pretty sure that someone insulted someone else's mother. 
Plus 43 to Bethenny who finally jumps in with The Real Housewives of New York City quote of the night…
What, we're just making sh*t up? Well then Tom Cruise walked in and I banged him!

Bethenny
And suddenly Heather and Dorinda are talking about taking long walks through the Berkshires to work it out…until Dorinda has too many dirty martinis again and her angry underbelly starts to show. 
LuAnn is still trying to figure out when she really became so pissed off about Carole and Adam but makes it clear that Carole somehow should have known that this would be a huge issue…especially after Turks & Caicos. Minus 18. Does anyone have any idea what she's talking about or is it all in LuAnn's head. 
So do you really need a "walker" to get you to a club restroom in NYC or is Bethenny right and…
LuAnn does her best work in the restroom.

Bethenny
Yes, LuAnn has changed an awful lot over the years. From scolding Bethenny for not referring her as Mrs. De Lesseps to their driver to banging 20-something married men on vacation, has she now become the anti-Countess? Cool Countess really doesn't seem to fit.
Bethenny and Carole when on vacation where they shared a bed on a boat but no one went down on anyone. Glad they clarified. Plus 10.
Andy prompted Bethenny to revisit Ramona's dress-gate once again and we have little doubt it happened the way Bethenny said it did. But if Bethenny actually sent her the second dress, expecting to receive the first one in return, does that mean Ramona stole one or both?
We needed a kleptomaniac in the franchise. Her name is now Rinona Ryder.

Bethenny
Worst than than was Ms Singer spreading gossip about Bethenny cheating on her husband…something Ms. Frankel vehemently denies. Ramona then asking why people were talking about it was just horrible. Minus 27.
Then again, maybe Ramona's emotionally traumatized from finding her own hubby shacking up with some woman in their Hamptons home. 
I'm with LuAnn on  this one, I never liked Mario. 
Episode total = +16!  Season total = -178!
Don't miss the drama. You can watch The Real Housewives of New York City online here at TV Fanatic.
C. Orlando is a TV Fanatic Staff Writer. Follow her on Twitter.