The Strain Q&A: Kevin Durand on Fet's Feelings For Dutch, Mad Exterminator Skills
Jim Halterman at . Comments
Can anyone find happiness in the growing vampire apocalypse of The Strain Season 2?
One vampire fighter, Vasiliy Fet, has been pushing through a crumbling world, seemingly not phased while he kills blood suckers at the same time he's finding some romance along the way with Dutch.
But, as you might guess, happiness probably isn't something that lasts very long on this FX drama.
However, Kevin Durand was all smiles the other day when I sat down to talk about The Strain Season 2 Episode 5 and what's to come.
The good mood was inevitable since the actor had found out earlier that day that the Guillermo del Toro/Chuck Hogan series was renewed for a third season. Hooray! But will his character be reveling in such joy down the road?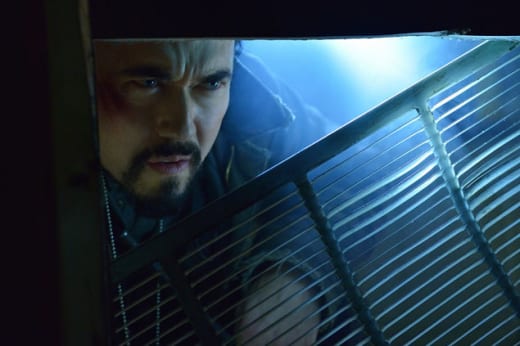 TV Fanatic:  You've played so many different roles in your career including being on Vikings this past season but where does Fet fit for you?
Kevin Durand: I have a weird kind of mad love for this character. It's so great to get to play a character who's flourishing in the midst of all this decay and rotting and the fall of society and civilization as we know it and he keeps getting stronger and happier.
I think it's the first time in his life that he truly feels needed and important and all of a sudden all of these skills and all of this extra information that he's been compiling into his cranium over the years is actually coming in handy and beautiful girls are interested in him all of a sudden. It's like he's thriving in the vampocalypse.
TVF: Going off that, we do see Fet use some of those work skills in finding the vampires in the walls of the building. That was cool but shows he has skills maybe the others do not.
KD: Yeah, he's not only an exterminator, he's so obsessive compulsive and meticulous about information that all of those skills in ridding the world of rats and any kind of other pests, he was the guy. He was the top guy in the Five Boroughs.
TVF:  What are his feelings for Dutch at this point? Is it just a crush? Is it just infatuation? Or is he really falling for her?
KD: When I was playing the scenes, I built this thing into my head that this is a guy who may have had a bunch of one-night stands but he's never looked into a woman's eyes and seen such a clear reflection of himself. [Dutch is] dark. She's incredibly intelligent, kind of twisted. She's hurting in a lot of ways from past relationships just like Fet, and they just get each other instantaneously.
TVF:   And she's hot.
KD: And she's hot. So it's so new for him [and] I definitely felt like I was playing that he's really quite smitten, dangerously smitten, I think, and for such a tough badass to feel so exposed for the first time in the midst of all that's happening? It kind of raises the stakes on everything because all of a sudden he has feelings for, not only him, but for Nora, for Eph, for Setrakian because he loves the guy. He's been a lone wolf for so long that now all of a sudden the stakes have gone up for him because he's got to keep everybody safe.
TVF: Do we see Fet kind of thrown off his game a little bit in the coming episode? So far, he's been able to handle all the stuff thrown at him but…?
KD: I think the only thing that scares Fet is these newfound raw emotions that he hasn't really let himself dive into too much in the past. That's the only thing that throws him off but when it comes to confronting this new plague, you can't shake him, I don't think.
We'll see but I think he's also incredibly pragmatic and practical so he knows what needs to be done and he knows that if he softens up too much that it'll be the end and he doesn't want to turn into one those ugly things.
TVF:  He hasn't seen them yet but I predict that Fet will love the Feelers when he sees them. He'll be like, "Oh wow, this is a whole new fun thing for me to do."
KD: [grins] New challenge. He just gets such a kick out of the challenge of eradicating these things….they're awesome.
TVF:  I saw you at Comic Con so was curious if your Comic Con experience changed because you've been in some high profile shows now?
KD: You know, it was my second Comic Com. The first year there was a lot of love. I was really grateful for it I guess because I've been around for a long time but this year a lot of it was directed towards Fet and it was great because I got to talk about the film that I had opened a couple weeks ago called Dark Was the Night.
TVF:  Tell me that because I saw you Instagram about it a few weeks ago.
KD: It's this really great little film that we did. It's kind of a family drama disguised as a creature feature. So you follow this fellow, his name is Paul Shields. He's the sheriff in this small town, and it starts off with us seeing that he's in a really dark place. His son had passed away and he blames himself for it, and so his relationship with his wife is strained. His other son, it's strained. I keep saying strained, strained, strained.
TVF: Everything is a 'strain.'
KD: Exactly and these claw prints start showing up all over town and livestock is disappearing, people start disappearing and everyone's looking to him and he doesn't even know if he can tie his own shoes right. So does he save the day? I don't know but you'll have to check it out.
The Strain airs Sundays at 10/9c on FX. To check out Dark Was The Night, visit ITunes or the film's website. 
Jim Halterman is the West Coast Editor of TV Fanatic and the owner of JimHalterman.com. Follow him on Twitter.