Was this an episode of Zoo, or an Alfred Hitchcock movie?
No jokes on this one. There wasn't anything very funny about Zoo Season 1 Episode 9. This was the episode that encompassed everything that this summer miniseries was advertised as being: a mystery, where animals are changing, performing horrifying attacks that leave your jaw on the ground, and providing heart-stopping action.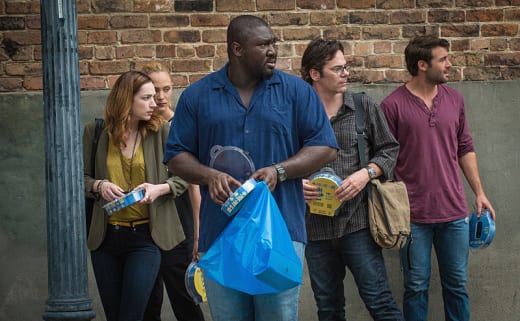 I don't speak spy, but it pretty much feels like game over.

Mitch
This is the Zoo I've been longing to see all season. However, now that I've seen just how scary these fictional (thank goodness) animals attacks can be, I find myself wondering if I would have had the stomach to handle the show for the last eight weeks if it had been that way. 
For whatever reason, it's been easy to watch week after week, and make these animal mystery attacks lighthearted with humor and silly puns, but for "Murmuration" it's much harder to do that. I think that's because it's generally absurd to find a bear in your kitchen, or chase after a dog who's unbelievably smart and tricks you into an alley full of other killer dogs. Wolves don't break into prisons.
I can't even pretend to believe in this fictional world that any of those things are possible. But birds...
There's a reason Hitchcock's film evokes such fear in us. How often have you found yourself on the road, and driven past vultures, bloody beaked, as they feast on fresh road kill? Have you ever witnessed a hawk, swooping down to pick up it's latest meal, while it's still fuzzy and alive? I've seen both.
Jamie: Guys, he's going to make a phone call to men who get paid a lot of money to make other men disappear. Other men and other women.
Jackson: How are we at a point where that doesn't even sound insane to me?
There's just something scary as hell about birds, and the writers of Zoo know it.
I don't even have words to begin to talk about THAT moment in the episode. You know the one. The most grotesque and frightening scene we've scene yet on Zoo. Watching a mother be swarmed and killed by birds, as she desperately tries to shield her baby, is probably the most unsettling thing I've witnessed on television in a long time. 
Among the less gruesome moments were some long-coming answers about who the bad guys are exactly in this world we've been enthralled. The reveal that Delavenne is the Head of Global Security for Reiden was actually quite surprising. The big bad Reiden brought together the Zoo Crew.
Delavane: You're making a mistake.
Jackson: No we're not. You're the one making a mistake. See, we've got nothing to lose. You, on the other hand...when this is all gone, don't say we didn't give you a chance.
I definitely didn't see that coming, which surprises me, as I'm generally pretty decent when I play Clue, and even better at solving big TV mysteries. Yet that twist caught me off guard. It definitely threw our heroes for a loop, but Jackson kept them all on track: this is about saving the animals.
One thing which I was not at all surprised by was Mitch's change of heart. I think we all agreed that there was no way he would betray the team, and his actions were that of a desperate father, doing literally everything within his power to save his daughter's life.
The scene between Mitch and Audra at the end was really nice. She's truly forgiven him, and I think after this is over, Mitch will be around to see Clem much more. 
Audra: I'm sorry I've been so hard on you.
Mitch: It's ok...I think I tend to bring that out in people.
Chloe admitting her fears and faults to Jackson was also a nice moment between the pair. Chloe is right in saying that as the only actual detective amongst them, she should have been able to read Delavane and know that he was lying about who he was. She's been quietly questioning her abilities for a long time. Jackson's reassurance seemed to give her sincere comfort.
Did anyone else find it a little heartbreaking that Brannigan loved Shaffer so much? He loved Ben so much, in fact, that his disbelief that Shaffer was a dirty agent is causing him to act out in anger, looking for a dead body to carry the blame, unaccepting of the fact that Shaffer might just be that body carrying some of Reiden's blame. No? Just me, then?
I was glad to get back to Robert Oz, even if only slightly. His manifesto was there at the beginning, and now we're finally figuring out that he, himself, most likely knew about the Mother Cell, and was in search of a cure.
The mystery of how Evan Lee Hartley and that wonky eye of his fit into that still remains. I sincerely hope that Zoo goes back to that, because otherwise, his life and death served no purpose other than to be a catalyst for some big bad wolf jokes.
It looks as though we're headed back to Africa next week to catch a big cat. Hopefully Abraham will have a bigger bag than he had for those rats on Zoo Season 1 Episode 8. 
Stray Thoughts:
In the opening credits sequence, every week I know that Abraham is saying that he's a "safari guide," but all I hear is "Safari Guy," and I imagine him as the host of a wacky children's wildlife show. 
Boston is an incredibly beautiful city. Every exterior shot of Boston makes me want to revisit. The Boston travel council would be pleased.
What dive bar has an elementary school poster of the world conveniently hanging up on the wall?
Chloe, it's true. You can't see what's in front of you. Let me help... it's Jackson, the handsome zoologist who saved your life, and you should really go on a date with him when this is all over.
Can you believe it? There's just 4 more episodes of Zoo this summer! Missed any, or just want to watch the Zoo Crew's stories again? We have the solution! Catch up and watch Zoo online here at TV Fanatic! Don't miss a moment as we head into the home stretch!
Tune in next week for Zoo Season 1 Episode 10, and as always, head right back here to discuss. We'll be waiting!