Awkward Season 5 Episode 4 Review: Now You See Me, Now I Don't
Paul Dailly at . Updated at . Comments
The past will always come back to haunt you.
That sentiment echoed through Awkward Season 5 Episode 4 as Jenna realized that she will never be able to keep up the charade and be the most popular girl around. 
Lacey no doubt helped reach this mind set. I found it pretty immature of her to attempt to make fun of one of the darkest periods of Jenna's life.
Do I think she did it maliciously? Not a chance in hell, but she needs to take a second and think about her actions before she hurts someone very badly.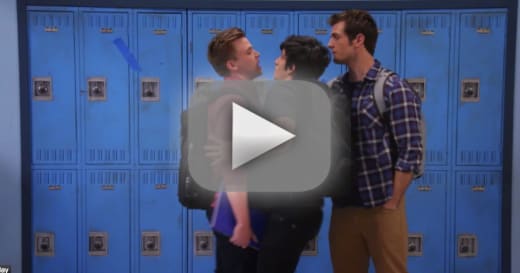 There's no denying that Lacey is one of the coolest mothers out there. Nikki Deloach has great comedic timing and turns in an excellent performance every week, so it'd be good if she was given scenes that fit her character. I just can't fathom where it came from.
Realistically, it would remind Jenna of the letter her mother wrote to her, and that ain't a good thing.
Lacey: Do you love, or do you love?
Jenna: What in the hell are you doing? Are you trying to humiliate me?!
Theo and Cole set pretty much all of this week's events in motion with them making their own version of the yearbook. I do like these characters, but it'd be good to get some more insight into what actually goes on with them. They're being used as a mere plot device right now, and it's certainly their time to shine.
Matty continued his descent into social obscurity, and it seems like he's actually enjoying it. Admittedly, there are a lot of things you have to do to remain with the cool kids, so can we safely assume that Matty got tired of keeping up his act? Probably. He has more in common with Kyle than he ever did with Jake, but it's clear Kyle doesn't know much about him. 
The scene with him commenting that Matty will find it hard getting over Jake was downright hilarious. The look on his face was priceless. He was genuinely taken a back. 
I'm totally not buying Lissa's new guidance counselor status. Like that would actually happen. Senior year is an important year for any student, so the notion that Lissa can juggle Val's job and revise for finals, while attempting to get into college is just ludicrous. Sure, it paves the way for some more laughs, but with this one I'm laughing at the show's expense. 
Does Aly actually like Sadie? It sure as hells seems that way after Sadie's mom going all out to reel her daughter back in. The look Aly gave as she said, "you're welcome" made me chuckle. Look for her to be there for Sadie when her mother inevitably shows her true colors again. 
Lacey: Do you love, or do you love?
Jenna: What in the hell are you doing? Are you trying to humiliate me?!
I don't even want to talk to Tamara. Her storyline is ruining the hilarious character she once was.
"Now You See Me, Now I Don't" was an apt title for this installment. This episode was a shell of solid episodes we've laughed away to on Awkward Season 5. I hope this isn't the shape of things to come, and the show gets back to it's regular, enjoyable self next week!
Remember you can watch Awkward online, right here on TV Fanatic. Get caught up on the action now!
What did you think of the episode? Are you missing Val? What's coming up? Hit the comments below!
Awkward Season 5 Episode 5 airs Monday September 28 at 9/8c on MTV.
Paul Dailly is a staff writer for TV Fanatic. Follow him on Twitter.