Awkward Season 5 Episode 5 Review: The Dis-Engagement Dinner
Paul Dailly at . Updated at .
What the frak is going on?
Awkward Season 5 Episode 5 continued the show's descent in mediocrity. Who knew that just a few episodes could ruin the strong opening to the season? 
Let's start with Tamara. Why would she want to go through with an engagement party to someone for whom she doesn't even have feelings? I'm not buying her declaration of love in the closing segment of the episode because that was merely thrown in there as a cheap shock for us at home, and it won't wash with us. No, we know bad writing when we see it.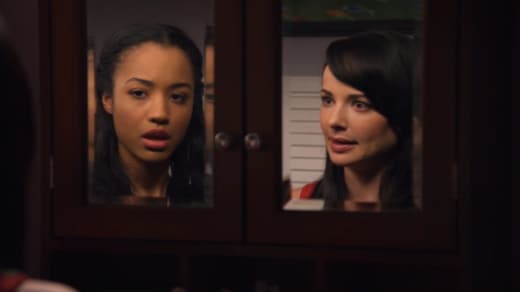 This is the storyline that is going to ruin the character of Tamara for good. She's downright annoying and seems to think that everything she says goes, but that will never be the case. The show needs to drop this whole storyline ASAP and get back to what it was doing a few episodes back. 
I can't have been the only one cheering when Jenna let it all spill out in drunken fashion, right? It was obvious it was going to come out. Jenna Hamilton and alcohol don't really go well together. It led to her having several awkward run ins with her ex who just couldn't seem to take no for an answer. 
Gabby is growing on me considerably. Sure, she was a complete bitch when she was introduced, but now she was hilarious. She should be given wine more often. However, I didn't feel it was necessary for her to tell Jenna that Matty loved her. We all knew this already because it's glaringly obvious. She knows he does, but why are they not together yet? Because there are still 20 episodes of course!
Had I known there was going to be this much filler, I'd have preferred a truncated Awkward Season 5 because it's getting ludicrous at this stage. Even Sadie's zingers seem like they're going out of date. Sergio has been interesting to watch because he's the polar opposite of her. I loved how he totally told her she was rude, and she didn't attack him. She obviously likes him. 
Who knew that Sadie could actually like someone other than herself? At least there's a little bit of character development left on the show, right?!
I can't help but think that the episode would have been better if Val, Aly, or Lacey were present. They bring a lot of laughs with them, and it isn't forced. It all comes across naturally.
"The Dis-Engagement Dinner" was a terrible affair. Matt and Jake may have brushed their differences aside, but that isn't going to save the show. It's time to go back to basics and cut all of the adult arcs out. The show works best when our favorite characters are immature teenage delinquents. Let's hope it gets back on track before the season is over. 
What did you think of the episode? Are you missing the older characters? What do you want to see happen? Hit the comments below!
Awkward Season 5 Episode 6 airs Monday October 5 at 9/8C on MTV.
Paul Dailly is the Associate Editor for TV Fanatic. Follow him on Twitter.