Blue Bloods Season 6 Episode 1 Review: Worst Case Scenario

Christine Orlando at . Updated at .
After watching Blue Bloods Season 6 Episode 1, I couldn't help but wonder how many sleepless nights occur for those who know about every credible threat against New York City and is there a sleeping aid strong enough to help. 
Once again the Reagan family was on the front lines to keep the city safe and what fun would Blue Bloods be if they weren't?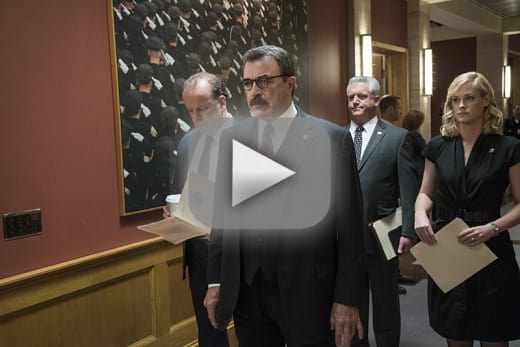 One of the things that struck me was that the police came down hard on people who were trying to do the right thing. First Eddie accused the waitress of being too inebriated to give them credible information. Granted, the woman was working as a waitress in a strip club but she wasn't slurring her words or obviously drunk or high. She called the police to inform them of a guy who used phrases that scared her enough to report him. 
Did no one notice Stass had a Cipriani's shirt on? The logo was plain as day in that picture. It shouldn't take a detective to figure out that that could be a lead. 
Elsewhere, Danny dragged Nazeem around by the arm like he was a suspect and then treated him like one at the station when they finally got a translator. 
I could understand being wary of his information but when the man mentioned having seen three bombs, shouldn't the very next questions have been where and when? It felt like it took an awfully long time for the NYPD to check out that apartment building.
And is it really that difficult to get a warrant to search a residence when an eye witness says they've seen three bombs inside. It's not like this was an anonymous tip. Nazeem was sitting in the precinct. That sounds like a credible threat to public safety to me.   I know that we all have the right to privacy but it's scary to think that bombs could have been going off while everyone was trying to figure out how to cover themselves from lawsuits and bad press. 
I was also a little surprised they only showed Nazeem the photo of Stass. Wouldn't a photo array have been a better choice, especially since Danny suspected he might be lying?
One of my favorite Blue Bloods quotes came when Frank and Garrett had to try and calm Sid, who couldn't stand just waiting for news to come through…
This is the hard part, Sid. The time between doing everything we can think of and finding out if it worked.

Frank
I can imagine that that must be a little piece of hell. 
The fight between Danny and Stanislav at the end was brutal. From the glass breaking to the eye gouging, it had me cringing from beginning to end. 
All of my nitpicking aside, I really enjoyed this season premiere. it's great to have the Reagan family back on my screen; I've missed them.
So is ignorance really bliss? Probably, especially when the threat is passed and there is nothing more to be done. Perhaps not so much when it comes to your teenage son's underaged drinking. Sean's "Read the room, bro." was just hysterical.
Want more Reagan family dinners? Then check back next week for our review of Blue Bloods Season 6 Episode 2 and if you can't wait until then, you can always watch Blue Bloods online here at TV Fanatic. 
C. Orlando is a TV Fanatic Staff Writer. Follow her on Twitter.