Bones Season Premiere Spoilers: Who's Missing? Who's Left in the Dark?

Christine Orlando at .
I love my job. I've seen "The Loyalty in the Lie," and I'm here to tease you with it. 
Spoiler Alert!
Be warned. If you want to go completely spoiler free, you should really stop reading now.
The Squinterns have returned as Bones Season 11 Episode 1 brings us back to the Jeffersonian, but where are Booth and Brennan? Certainly not where we left them last season, and they're not alone. 
Booth and Brennan have indeed gotten a fresh start, just like they said they would when we left them. But does that mean they're out of danger?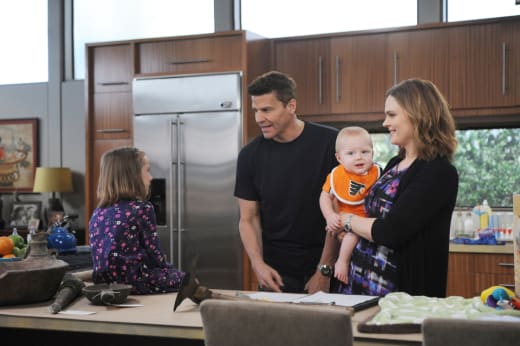 Here's what you need to know:
There's a six month time jump from the Bones Season 10 Episode 22 finale.
The new baby has already arrived and is making Booth duck and cover.
A dead body that has been burned beyond recognition has very close ties to one of our core characters.
There's an engagement ring floating around; but will it end up on someone's finger?
Kim Raver plays Special Agent Grace Miller. She's with Internal Investigations, which will make people bristle.
Brennan is struggling with being kept in the dark and no longer being in charge at the Jeffersonian.
Booth goes missing, but don't take that to mean you won't be seeing him in this premiere.
The Bones season 11 premiere is scheduled to air Thursday, October 1 - but if you can't wait until then, you can always watch Bones online here at TV Fanatic. 
C. Orlando is a TV Fanatic Staff Writer. Follow her on Twitter.