It's a little early for tears, isn't it?
On Dancing With the Stars Season 21 Episode 3, the couples danced their second routines of the week, this time, inspired by the hometowns of the professional dancers.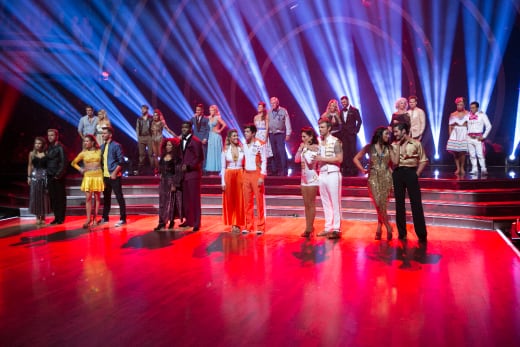 I have to say I really enjoyed learning more about the pros. Finding out the stories of when they starting dancing, how early in life they knew one another, and even getting let in on a few good secrets just makes us that much more invested.
And let's face it, there are a lot of us who keep watching the show because we care about seeing our beloved pros.
Some of the stories seem so shocking, with the pros moving to America because of government changes, or growing up during wartime. To see all of the people come together and show off their amazing talents is remarkable.
Alexa and Mark's dance is the one that brought tears to my eyes this week as Alexa performed Mark's mother's signature move. Just like the judges said, it's nice to see Mark's wacky side one night, then something so beautiful and simple the next.
Really, the same thing goes for Bindi and Derek, who went from rocking to AC/DC to dancing an emotionally charged waltz. Nick and Sharna's Foxtrot, however, was probably my favorite dance of the night. It was completely captivating and passionate – a whole new side to the Backstreet Boy.
In general, though, I feel like a lot of these dances were lackluster. Well, that's what happens when new dancers have to learn two routines in one week so early in the competition. It's just a little bit insane.
Yet again, we were whisked through another elimination ceremony at the end of the episode. So who was the second couple to be eliminated?
In jeopardy were Gary and Anna and Victor and Karina, both who seem to be fan favorites at this point. To see either go home would have been disappointing, not because their dances are the best, but because they both have such good attitudes and are so fun to watch.
Sadly, the couple that was sent home was Victor and Karina. For next week I'm pretty worried about Gary Busey. I know that others are doing better in the competition, but let's keep him around a few more weeks at least, okay?
Other Thoughts:
Only Gary Busey could leave Erin speechless.
Tony is one of my favorite pros, and I enjoyed getting to find out about his story in particular.
What did you think of this episode of Dancing with the Stars? Share your thoughts in the comments below!
Check out the scores to see where everyone landed on the leaderboard:
Hayes and Emma (Quickstep): 23
Carlos and Witney (Cha Cha): 21
Gary and Anna (Paso Doble): 15
Andy and Allison (Contemporary): 23
Alexa and Mark (Rumba) 22
Paula and Louis (Tango): 18
Bindi and Derek (Waltz): 23
Kim and Tony (Foxtrot): 18
Victor and Karina (Rumba): 20 – ELIMINATED
Nick and Sharna (Foxtrot): 24
Tamar and Val (Charleston): 25
Ashley Bissette Sumerel was a staff writer for TV Fanatic. She retired in September 2017. Follow her on Twitter and on Google+.