Is Grey's Anatomy actually returning to its roots?!
It sure seems like it, and I, for one, am thrilled. Grey's Anatomy Season 12 Episode 1 focuses on things like roommate drama, job promotions, and patients. No one dies. The colors are even a little bit brighter.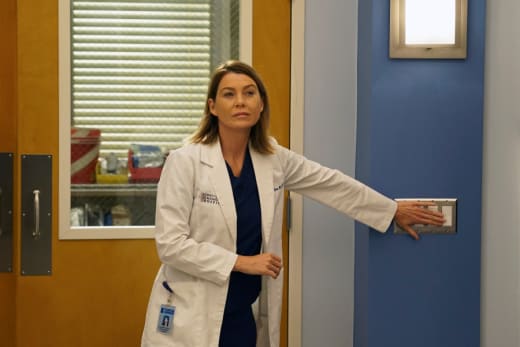 I'm never going to be over the fact that Derek is dead (sorry to even bring it up), but I have to say, his absence doesn't feel like a problem.
I enjoy Meredith more as a person who takes in strays and finds herself teaching an anatomy class. She's no longer living in someone else's shadow, and she's being given an opportunity to shine.
But it isn't just her. There's a more positive energy surrounding everyone. There are moments that make us laugh. And yes, there are some tears – but they are happy tears.
Because in addition to some light drama surrounding the doctors, there's an inspiring story about love and acceptance that everyone needs to pay attention to.
This is the sort of thing that makes Grey's Anatomy great. It doesn't hold back when it tackles subjects like bullying and homophobia. The outcome for the two girls who nearly died when they stepped in front of a train is that these two young girls are accepted and supported by their fathers, just as they should be. And the point isn't to focus on the surgeries and the doctors' egos as much as it is to show how they relate to the patients.
Yet in dealing with such serious and important issues, the tone remains light. Maggie punches someone in the face, and Arizona calls for a high-five. When Arizona has trouble finding a roommate, Stephanie finally explains why.
Stephanie: You're one of the Seattle Grace five.
Arizona: I survived a plane crash. A big deal.
Stephanie: And a car crash. And a shooting. You might be immortal.
Yep. It does seem like Arizona is immortal. Let's hope that isn't foreshadowing and instead is what it should be; the show actively referencing and making fun of itself for the long ridiculous list of tragedies everyone has lived through at Seattle Grace Mercy Death.
Meanwhile, Bailey is still hoping to become the next chief of surgery, but loses confidence when another candidate, who basically seems perfect, visits this hospital. I have to say, I've haven't been entirely invested in Bailey and Ben's relationship for a while. Until now. Ben's speech to Bailey encouraging her to fight her for rightful place as chief is one of my favorite parts of the premiere. 
The only thing better?
Bailey's bad-ass presentation to the board while she simultaneously performs surgery. THIS is the Miranda Bailey I like to see.
This is not a stepping stone for me. I believe in this hospital and what it can do. And I wanna push this bucket of boats to do the most impossible things you have ever seen. And then I'll do more. Because this is my challenge.

Bailey
Out of all of this, the thing that reminds of me of early Grey's Anatomy – the Grey's Anatomy that I still watch over and over because it makes me feel good, is when Meredith makes a peace offering to Amelia, and the three sisters stare at that hole in the wall.
We've come full circle, and Meredith is back in that house where she should be.
Other thoughts:
Owen and Amelia are adorable. I'm really hoping we get to see them as a happy couple this season.
Thank goodness we weren't asked to suddenly care about a whole batch of new interns. It looks like maybe well only be focusing on one, who is signing up to be Arizona's new roommate.
Things I don't love: the music. These covers are killing me.
What did you think of the season premiere of Grey's Anatomy? Share your thoughts in the comments below!
And here is your first look at Grey's Anatomy Season 12 Episode 2: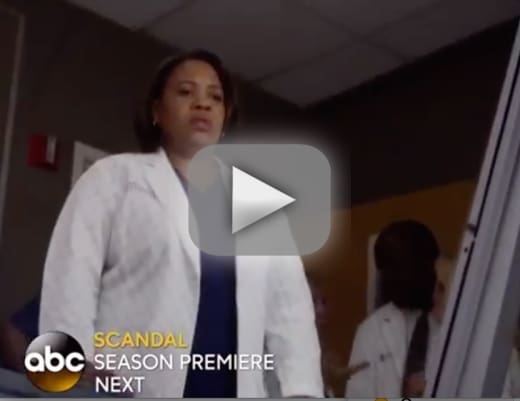 Need to catch up on past episodes? You can always watch Grey's Anatomy online right here via TV Fanatic!
Ashley Bissette Sumerel was a staff writer for TV Fanatic. She retired in September 2017. Follow her on Twitter and on Google+.