Law & Order SVU Season 17 Episode 2 Review: Criminal Pathology

Jack Ori at . Updated at . Comments
I love a good courtroom drama.
Sometimes Law & Order: SVU spends more of the hour on order than on law, so I was glad that  Law & Order: SVU Season 17 Episode 2 was mainly a courtroom battle. Besides, I can never get enough of Raphael Barba.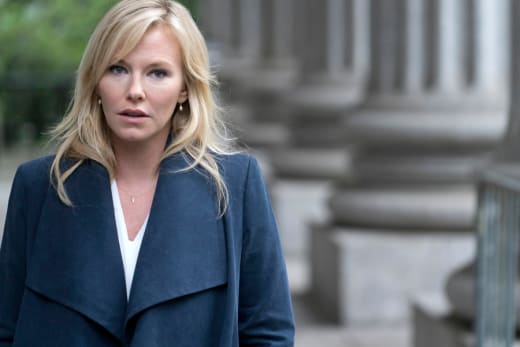 Before we get to that, let's talk about Rollins' pregnancy.
I'm excited about this. There are so many ways the show can go with it. For one thing, we don't know who the father is, only that it's not Nick. Given Rollins' apparent fascination with Yeats, is it possible Susie wasn't the only one getting conjugal visits with him? The fact that he knew she was pregnant before anyone else did was kind of creepy, but could also be a sign of things to come.
When one life ends another begins. You're bringing life into this world just as I lost my wife and child. I feel a connection.

Yeats
There's also the fact that Rollins has been acting all sorts of weird. She's apparently doing double shifts to make up for Nick being gone and has been acting overtired and unprofessional. That's usually a sign of a downward spiral. Hopefully she's learned her lesson about gambling, but that doesn't mean she can't find other ways to get in trouble. Her pregnancy won't necessarily protect her from that.
Sonny: You all right?
Rollins: Why wouldn't I be?
Sonny: Usually you're two steps ahead of me and I've never seen you queasy at a crime scene.
And then there's Benson wanting Rollins on restricted duty and Rollins not ready to go there. Benson could be an excellent mentor for Rollins, in both the keeping an even keel and the being a SVU detective while being the sole provider for a kid fronts.
I know what a hard worker you are. It's a good thing because being a single mom isn't easy.

Benson
Besides Rollins' pregnancy, the main story of this hour revolved around Rudnick's escape, capture and trial for Susie's murder. 
I wasn't really fond of the whole cross-dressing aspect of the manhunt. It was never really explained, and it kind of supports the negative stereotype that men who wear women's clothing are deviants of the dangerous variety. The cops up in Syracuse (who were also pretty stereotypical and were portrayed as hicks) certainly thought so.
So you got a cross-dressing rapist/murderer in your ME office. You guys in New York really are progressive.

Bob
Maybe we can chalk it up to one of Rudnick's idiosyncrasies though. He certainly was quirky.
I wasn't any happier than the judge when Buchanan showed up to help defend Rudnick. 
I know who you are, but I'm not a fan of courtroom theatrics.

Judge
I'm not a fan of Buchanan's over-the-top style, and I didn't really appreciate his strategy of suggesting everyone involved with the case had some ulterior motive for accusing Rudnick. I also didn't understand why he kept objecting to the crime scene photos being introduced into evidence. He must have known he'd lose those objections, and I thought it just made him look scared of the truth to keep trying to keep them out.
The 11th hour discovery of Rudnick talking to himself while being taped by the cops was highly entertaining. I generally don't like these sudden pieces of evidence that allow the right side to win the case. It seems a little too convenient. But seeing Rudnick turn around and try to fire his lawyers for incompetence when they failed to keep the video out of evidence almost made up for it.
So what did you think, SVU fans? Did the second hour of the two hour premiere satisfy you, or did you feel it missed the mark? Weigh in below.
Missed something? No problem! Just watch Law & Order: SVU online to catch up.
Jack Ori is a staff writer for TV Fanatic. Follow him on Twitter.