Modern Family Season 7 Episode 2 Review: The Day Alex Left For College

Liz Estey at . Updated at .
Alex's time at college should be pretty entertaining. But will her annoying roommate be amusing or grating? Only time will tell.
The writers wisely treated Alex's departure for college in completely different way from Haley's departure for college back on Modern Family Season 4. Similar to Alex as a character, her departure was understated.
The moments when Haley and Alex share a real emotional connection are incredibly poignant, and their goodbye was the perfect way to handle Alex leaving for school.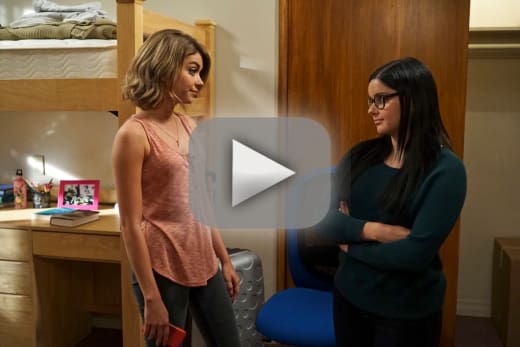 There was also another poignant storyline in Modern Family Season 7 Episode 2 which involved Luke growing up and away from Phil. The antics caused by the dynamic duo of Phil and Luke are always fun, but since Luke is now a teenager it is unrealistic to expect their relationship to continue in the same way.
The show did a wonderful job of showing Phil's resistance and eventual acceptance of Luke's new independence.
Gloria got to be her badass Colombian self once again this week. One of the best things about Gloria as a character is how much depth she has and how she subverts the trophy wife stereotype.
In an incredibly funny talking head moment she reveals that she only pretended to shoot Jay by accident, and actually has great aim shooting with her back turned.
Gloria's best moments are when she reveals how easily she can play other people, and this episode was good in part because of that.
Fulgencio Joe is finally getting his moment in the sun! Anyone who has experienced the unflinching honesty of a small child can relate to the shock and eventual humor that comes when a kid unknowingly sells someone out. The adults almost got away with lying to Mitchell and Cam, but Joe abruptly put an end to that ruse.
Similarly to Gloria, Mitchell has a specific type of situation that really allows him to shine. This episode wisely put Mitchell in charge of coaching Lily's soccer team at the last minute. The inevitable tension that arises when high-strung Mitchell is forced to be flexible is always fun to watch.
Arguably the best part of watching Mitchell struggle is how he and Cam eventually overcome it by working together. It sounds a little hokey when you boil it down, but their rapport is very fun to watch.
The only potentially problematic development is Luke's stereotypical hipster look. There are definitely ways to make it funny, but the hipster teenager storyline feels a little old at this point.
Do you think Luke's new hipster identity will be funny? Let us know when you watch Modern Family online. Be sure to check back next week for Modern Family Season 7 Episode 3!