NCIS: Los Angeles Season 7 Episode 1 Review: Active Measures

Sarah Parker at . Updated at .
NCIS: Los Angeles is back!
And while I'm sure we were expecting NCIS: Los Angeles Season 7 Episode 1 to be an explosive premiere , I found it to be kind of busy. And not necessarily for the better.
Usually a season premiere is a chance for the show to lay down some basic plots for the season, but between Callen going rogue and dealing with Anatoli Kirkin. It was just crazy!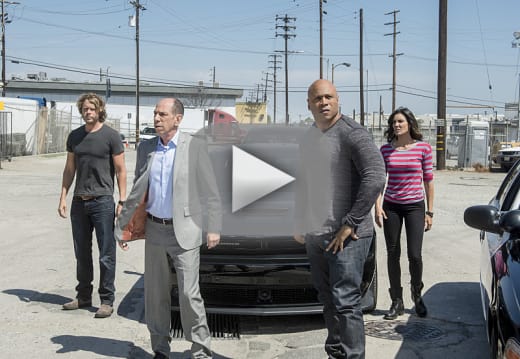 The opening sequence reminded me a little too much of a suspense thriller as Callen and Sam faced off Mexican-stand off style only for Sam to shoot the guy behind him. One thing I've missed is Callen and Sam's banter, which was on point here.
Stop by your place for a beer after my workout, just in time to see you leaving looking like Deeks on a bad day.

Sam
I also loved that Sam took point on the case, especially in dealing with a gun-happy Eric and a demanding Owen. While Sam was dealing with the office politics, Hetty was trying to talk Callen back even if she didn't know what he was doing. Although when it comes to shows about military intelligence, if you catch a character on a laptop with secret information, chances are its not good.
I have always admired the sort of mother-son relationship that Callen and Hetty have, but this episode portrayed Callen not as a kick-ass NCIS agent, but an angsty teenager telling his mom to get out of his room – even after he went off the grid and dealt with Anatoli for information about Arkady.
Now, I understand that a main part of the show is the fact that Callen has always been curious about his identity and that he believes that Arkady is the last known link to knowing who his father his, but is dealing with Russian mobsters a good idea? I was a little surprised when all Anatoli wanted was for Callen to steal a painting back, and instantly I felt suspicious.
My suspicion flared again when after going off the grid, Callen decides to draw attention by inciting a car chase. Really Callen? Really? Honestly, I cheered and laughed as Hetty tazed Callen after he ignored her. It also wasn't a surprise that Sam let him go when he was caught. What was a surprise, though, was Hetty losing her cool about it.
I don't need any damn tea!

Hetty
The usually calm manager of NCIS lost it until Sam revealed they could track Callen thanks to him planting a tracking device on his back. 
Now while all of this is happening, Callen is able to steal the painting with ease, which of course is a set-up. All I could think during this whole exchange was, how could you not see this coming, even as Callen led the Russians to a heavily armed NCIS. After all of that I had to fight back a face palm as Callen revealed that he knew they were tracking him.
The last five minutes were some of the best with Hetty and Sam making up, followed by Hetty laying down the law with Callen. I was relieved that she didn't just slap him on the wrist,
Hetty: Sorry.
Callen: No, you're not.
Hetty: No, not really.
But instead gave him a list of Anatoli's gang with the provision that he ask her permission or she wouldn't hesitate to fire him. 
Not tonight, tonight we drink alone.

Hetty
Overall, I found the season premiere to be interesting, but I feel like they haven't really set up the season for new and interesting escapades other than Callen's hunt for Arkady and Deek's IAB investigation (which was only mentioned once). Like I said earlier, I just found it to be too busy, but I am curious to see how it unfolds.
What did you think? Sound off below! And if you missed it, watch NCIS: Los Angeles online right here via TV Fanatic!
Sarah Parker is a staff writer for TV Fanatic. Follow her on Twitter.