It's out! ABC has released a screener for early review of Once Upon a Time Season 5 Episode 1. 
I've seen it and I'm here to tease you with juicy tidbits from the hour. Without giving away too much of the story, here are some things for you to know.
SPOILER ALERT! 
Be warned. If you want to go completely spoiler free you should really stop reading now.
The story picks up directly where we left off in Once Upon a Time Season 4 Episode 23, where Emma saved Regina by becoming the next Dark One.
Here's more…
Emma has been transported right out of Storybrooke.
Hook and Regina get seriously snarky with one another while they figure out what to do next.
There's a magic wand and only one person can make it work.
Someone unexpected helps Zelena get what she wants.
The Wizard of Oz theme is revisited in a really unique way.
Dark Ones don't need sleep.
Someone close to Emma is able to get through to her…but for how long?
Apparently true love can see through a witch's masquerade.
There are highlights for all of your favorite couples in this premiere.
There's an ominous mystery that emerges at the end of the hour.
On the upside, the cast looks amazing in their Camelot outfits.
The Once Upon a Time season 5 premiere is scheduled to air Sunday, September 27 on ABC - but if you can't wait until then for the magic, you can always watch Once Upon a Time online here at TV Fanatic.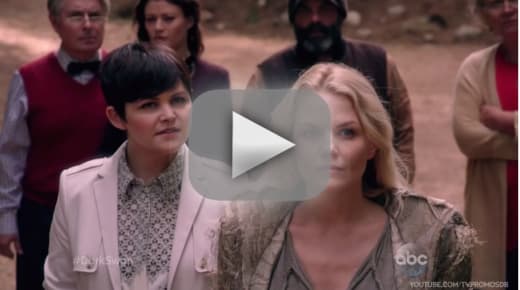 C. Orlando is a TV Fanatic Staff Writer. Follow her on Twitter.