Superstition, tradition, burning sage and unwanted guests. Rookie Blue Season 6 Episode 11 had it all. It also had a beautiful wedding and a perfect ending…although we really hope to see a lot more. 
So is the superstition limited to actually seeing the bride before the wedding because I wondered if Sam and Andy were tempting fate right from the start? Thankfully it all worked out in the end. Perhaps Celery and her burning sage helped save the day.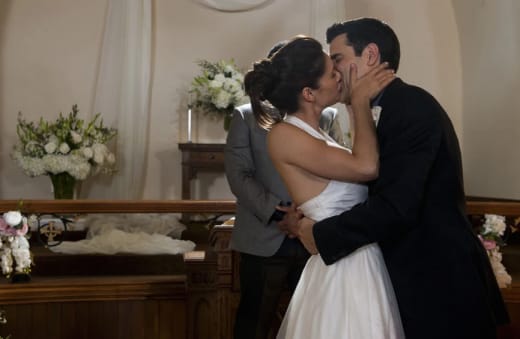 Seriously though, there were lots of wonderful moment in "74 Epiphanies" worth mentioning. First off, I was relieved that Nick got to say goodbye to Andy. These two have always had a bond and I was happy that their friendship was honored in some small way. Is this really the last we'll see of Nick Collins? As much as I've enjoyed the character, I don't know what else there is for him at 15 Division.
Of course Andy had to find trouble on her big day, which all could have been avoided if she'd only locked her vehicle doors. I was thrilled that the injured man didn't die. For a while there I really thought he would and that would have put quite the damper on the day. The poor guy broke my heart as he apologized to Andy as he sat their bleeding out. 
And how did Andy manage not to get a drop of blood on that wedding gown? I'm going to write that one off as TV magic. 
Back at 15, Traci was scrambling to come up with a theory on a case and leave it to Chloe to figure out that someone could fall down a flight of stairs and get killed with their own hammer. When Detective Anderson asked, "Who is that muppet?" I couldn't help but laugh. I love Chloe but there are times she is so animated that she should guest star on the new Muppet show. 
Even Duncan managed to shine as he proved he's not a complete dummy by tracking Andy down in her wedding gown on the side of the road and saving the day. 
Sam's father showed up. I was proud of Dov for doing a background check on that address. There is nothing about Jay Swarek that can be trusted. The only positive thing about his visit was that it highlighted what Sam was able to overcome to get here…
Here, being the happiest day of his life. Sam's vows to Andy were so much better than simply saying I do…
You took a broken man and you made him whole and each day I will be grateful. I am grateful for everything you've given to me. So now I take you, my friend, my best friend. My partner and the love of my life. For better or for worse. In sickness and in health. For now and forever. For Always.

Sam
And Andy's vows also made for some of the very best Rookie Blue quotes…
This is what I know. I have loved you since the moment I saw you. Loved you and feared you. Well, not you but this. I have been terrified to love this profoundly but not anymore. For good and for bad. For great and for hard. For dreams and the truth behind the dreams. I am here. I am yours. Sam Swarek, I choose you.

Andy
Despite all of the drama, or maybe because of it, the wedding was simply perfect as friends and family celebrated this happy event six years in the making.
Unfortunately, McSwarek didn't get much of a honeymoon as everyone arrived back at 15 Division to uncover their fate.
In a nutshell…
Juliet and Nick are off to Vancouver
Duncan is being transferred to 16 Division
Traci is staying and is now Detective Sergeant running Guns and Gangs
Dov is a Detective-in-training at 15.
Everyone else stays at 15 and now takes on rookies of their own to train.
Oliver will lead them all once again as Staff Sergeant. The white shirt looks good on him and his words hold true now as much as they did in the beginning of the series…
Serve, protect and don't screw up.


Oliver
Since ABC has yet to renew the show for a new season we are left to ponder if this was indeed a series finale. If so, it was well done and gave fans much of what they craved, however, I want more Rookie Blue! Summer just wouldn't be the same without it. If you agree, go to abc.com and let them know your thoughts on getting Rookie Blue Season 7!
Do you want to see the wedding again...and again...and again? You can watch Rookie Blue online here at TV Fanatic.
C. Orlando is a TV Fanatic Staff Writer. Follow her on Twitter.