Jimmy and Lydia decided that Nate needed to loosen up in Significant Mother Season 1 Episode 6, as if the drug laced gummy bears weren't enough.
No one can say a guy who hands you protective booties for your feet isn't a little uptight, but it was his father's brand new, super hot, fiery red Tesla, with gorgeous cream leather interior… so maybe we can cut him a break.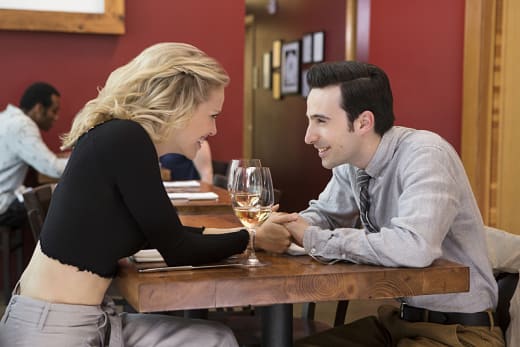 I gasped when Jimmy opened the bag of Serious Cheesy Puffs (yes, a real brand that I'd never heard of before this episode and am now on the lookout to try; debating between the Maple Bacon and India Pale Ale flavors).
Anyone who has ever eaten a cheesy puff knows the path of orange destruction that lies in their wake. 
Also, Jimmy's right. As much as I appreciate Nate's need to be safe, driving that car below speed limit is just plain wrong.
Jimmy and Lydia signed Nate up on the dating app Get Forked. Is it real? I have no idea. My Google search is still in cheesy puff mode, but I loved Jimmy's explanation of the subset of specialized dating apps in this Significant Mother quote…
There's a Tinder for everything. There's even Achin' for Bacon, for women looking for men who look like Kevin Bacon.


Jimmy
Oh wow. So which celebrity doppelgänger would you like to date? Right now Nathaniel Buzolic is growing on me, but let's not get sidetracked.
Poor Nate. That dating montage looked painful, but I really loved Hannah, the girl who wanted to run out on the check. That's so not Nate. 
Lydia and Jimmy were having fun working together until Lydia went solo, which was a bit of a relief. Their #Teamwork was almost too sweet, even for me; however, the crushed look on Jimmy's face was downright adorable. 
Lydia was so proud of herself when she found Annie.
Nate: Are you sure you want me to go out with a girl who lists sex as an interest?
Lydia: At least she didn't list it as an occupation.
She may not have listed it but…Do you have to list every job on your dating app like you would a job application? Did she file a form with the IRS for her work as AnnieHole? 
I suppose none of that really matters.
Jimmy: We did this so Nate would meet someone different. She's different.
Lydia: There is different and then there's porn!
And Lydia is still Nate's mother, and setting your son up with a porn star, even an amateur porn star, is a bit awkward. 
Take away everything else, and the best moment was the expression on Nate's face when he looked up at the collection of condoms Annie was asking him to choose from.
Annie: Pick a flavor.
Nate: Am I going to taste it?
Nate lost the Tesla in return for some amazing car sex. Thankfully, it was insured, and the test results came back negative. Will we ever see Annie or the Tesla again? Probably not.
Will Sam be able to write a decent song that isn't about Nate? I think we'll need to tune in next week for Significant Mother Season 1 Episode 7, "Under Buddy," to find out more.
The only disappointment about this episode was that Harrison wasn't in it. That's because Jonathan Silverman directed this very funny installment. Well done, Sir, but we want you back on our screen!
Don't miss out. Watch Significant Mother online any time here at TV Fanatic.
C. Orlando is a TV Fanatic Staff Writer. Follow her on Twitter.