Significant Mother Season 1 Episode 8 Review: Home Is Where the Lamp Is

Christine Orlando at .
A house is just a house until it's your home, and then it can be a little hard to leave…especially if you're Nate in Significant Mother Season 1 Episode 8. 
Lydia's been determined to move forward with her life but it's hard to let go of your past when you're surrounded by it. Even harder when your ex-husband pops in unexpectedly with his extra, extra set of spare keys.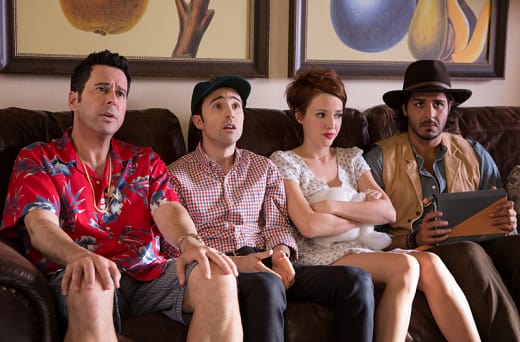 Poor Nate. As if walking in and thinking his mother was bobbing for Bob wasn't bad enough, he got blindsided by learning that Lydia was selling his childhood home to buy herself a condo.
Mom, a condo is where old people go to die.

Nate
Who took the news even worse than Nate? Harrison, who realized that if Lydia sold their family home she could never ask him to come back to it. It actually made me feel sorry for him, until I remembered he cheated on her repeatedly and then I got over it. 
Harrison enlisted not only Nate's help but Sam and Atticus' too and I'll be damned if Atticus didn't indeed look a lot like Juan Valdez. But can Sam stop calling Lydia and Jimmy Jimydia? It sounds like a sexually transmitted disease.
Harrison's visit to Christmas past was a great idea until Lydia began remembering all the bad times along with the good in this Significant Mother quote…
Lydia: Like listen to me when I talked, or go to any of Nate's little league games, or the fact that this was the Christmas that you told Nate that Santa was an anti-Semite and proceeded to re-enact the Holocaust.
Harrison: Okay, I'll admit my Holocostume was a mistake.
Seriously though, does Lydia really only work six hours a week and she got the house? What was that divorce settlement like because she obviously made out like a bandit.
As usual, Jimmy was incredibly sweet, even as Nate was telling him he was all wrong…
Don't be nice to me while you're doing something stupid.

Nate
But that's just it. Jimmy is always nice. He empowers Lydia to be her own person and have fun. He supports Nate in his own odd ball way and he doesn't seem to have a mean bone in his body, even when it comes to Harrison. However, he may have some serious commitment issues. 
The open house was hilarious. Harrison really did look like an albino Tom Selleck. Buns Under the Tuscan Sun made me wonder how many porn titles they went through to come up with that one, and Atticus and Nate were suitably weird. Sam's pregnancy skit was the only one that went completely over the top but Bob the realtor saved it when he called her Rosemary's Baby.
I knew that the conversation between Lydia and Jimmy at the condo wasn't going to go well despite the awesome Baywatch reference and I have to ask…I didn't see a balcony so what was with that door in the middle of the floor to ceiling windows? 
Back at the house, the moment I saw tears in Lydia's eyes I knew what was coming. Nate scared the hell out of Jimmy who turned around and broke up with Lydia. Ugh!
I certainly hope that a suitably guilty Nate fixes this in Significant Mother Season 1 Episode 9, especially since it's the season finale. If you're a fan, let the CW know that you want another season of this fun, quirky, lovable comedy next summer.
If you need to smile today, you can watch Significant Mother online here at TV Fanatic. 
C. Orlando is a TV Fanatic Staff Writer. Follow her on Twitter.