Switched at Birth Season 4 Episode 14 Review: We Mourn, We Weep, We Love Again

Samantha McAllister at . Updated at .
Who else wants some lemon cake?
There were some heartbreaking reminders of loss on Switched at Birth Season 4 Episode 14, but we were also reminded to celebrate life. It was a huge departure from last week's Switched at Birth Season 4 Episode 13 which mainly focused on the will they or won't they scenario with Toby and Lily.
Despite the sadness, the hour was surprisingly uplifting and, I dare to say, one of the best episodes this season.
Let's not waste anymore time and discuss, "We Mourn, We Weep, We Love Again."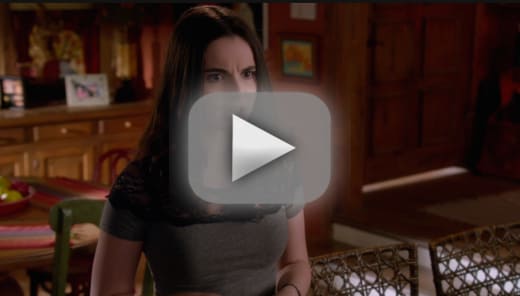 It was interesting watching Daphne take care of all those people in the simulation. Daphne wants to do everything she can to be a doctor and, despite her past indiscretions, she truly wants to help people. She really would make the perfect safety captain for her dorm.
I was surprised Regina never told Bay about her moving in with Eric. How could Regina tell Daphne and forget to tell Bay? I have to agree with Bay on this whole thing being a bad idea. Regina and Eric haven't even been together a year – it makes no sense to uproot your whole life when you don't know if the relationship can last. 
Equally surprising was Regina blowing off Angelo's birthday celebration. Bay was right to get angry with her when she wouldn't modify especially after she saw how upset Bay was. Eric would have understood if Regina couldn't make it to Will's recital considering she did make plans with Bay in the first place. 
It was disappointing when Bay forgave Regina so quickly and blaming it on her not wanting Regina to move away. It's time for Regina to move out the guest house and into her own place. Moving Eric and Will into the guest house is only going to create more problems – did Regina forget Eric is a wanted man? 
At least Daphne had a good reason for not being able to celebrate – she really couldn't cancel on a ride along. It was heartbreaking when Daphne got the news the man she was trying to console didn't survive the car accident. It was a reminder of how precious life is and showed Angelo is still very much on Daphne's mind.
As much as I wanted to be angry about what the EMT was saying to Daphne, at the end of day, it was all true. In their line of work you aren't going to be the hero every single day and you have to focus on helping those who need/want the help. Daphne is getting an honest look at the reality of the career path she has chosen.
Of course it didn't come as a huge surprise when Daphne decided to join Melody on her trip to Mexico to distribute hearing aids. It may be time for Daphne to look into more volunteer work or maybe even entertaining the idea of joining Doctors Without Borders since she wants to help people – there are so many possibilities just waiting for her.
Oh Travis! Why did you have to lie to Bay about Skye and Emmett? Travis is trying to protect Bay, but it's time for Bay to move on from Emmett. Bay needs to stop having false hope for a future with him and focus on herself – maybe work on building up her self esteem because she has lost the spark she used to have.
I know we've talked about it in the comments a couple time, but it's becoming clear they are trying to put Bay and Travis together; though I'm still on the fence about it. As much as I loved Mary Beth and Travis together, I could really see Travis being a great guy for Bay, but at the same time, starting a relationship with Travis could easily ruin her friendship with Mary Beth – it's all just so confusing!
Thank goodness Kathryn and John are working together to try to fix their finances, but I couldn't help but laugh when they tried to find products to endorse. Did they really think they'd be able to endorse high end products? John is a retired baseball player and Kathryn has written one best selling book – take what you can get and get paid.
At least Kathryn tried to be on board with the whole thing and find something almost useful to endorse. They could have easily made John and/or Kathryn depressed about their recent financial troubles, but they've thankfully gone another route and having them actually put effort into trying to fix their problems is a lot more fun to watch.
John coming to the conclusion he would have to sell the car wash was bittersweet. Sometimes you have to let things go and John is realizing he can't hold on to something which is no longer providing for his family. At least he has Kathryn who is there to support him in any decision he makes. 
In the end, Regina, Bay and Daphne finally got together to celebrate Angelo. I'm please the show hasn't completely abandoned Angelo's memory and they continue to celebrate his life. He was a big part of all their lives and his death is still heartbreaking to think about. 
What did you think of the women coming together to remember Angelo? Do you think Daphne should look into another career?
If you missed this, or other episodes, be sure to watch Switched at Birth online anytime via TV Fanatic. Just make sure you come back to let us know what you think.
Next week on Switched at Birth Season 4 Episode 15, things don't go as planned when the friends go on a trip to Mexico to help Melody out. Will what happens in Mexico really stay in Mexico? Find out Monday, September 21 at 8/7c on ABC Family.
Samantha McAllister was a staff writer for TV Fanatic. She retired in November 2018.