Switched at Birth Season 4 Episode 16 Review: Borrowing Your Enemy's Arrow

Samantha McAllister at .
If all else fails, just bring bottles of wine to dinner.
On Switched at Birth Season 4 Episode 16, it was all about relationships and what we can do to fix them. There was a nice mixture of healthy relationships and ones which needed a little fixing up, but all in all, it was a rather entertaining hour.
Let's not waste anymore time and discuss, "Borrowing Your Enemy's Arrows."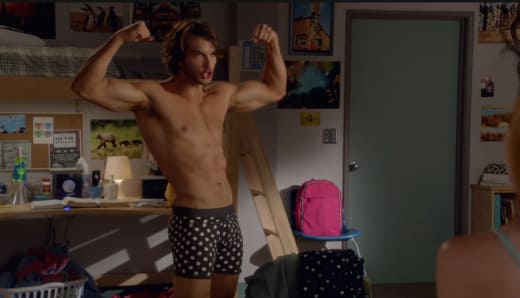 If Bay was so concerned with Emmett moving on so quickly, she could have been an adult about things and talked to him about her feelings instead of being vindictive. Bay does get credit for at least attempting to move on with her romantic life and get her flirt on with Travis' friend, Garrett.
Hearing Bay's OK with Garrett being a player is totally fine because Bay is not ready for a relationship right now. Bay has been so obsessed with Emmett for so long it's time for her to go out and have a little fun – she's not in the right mindset for a steady relationship.
Of course Bay's fun night was quickly ruined thanks to a "visit" from her past in the form of Tank. I was extremely proud of both Tank and Bay for taking blame for what happened and apologizing to each other, but it's sad how Tank's life has changed forever. Tank is not a bad person, and both he and Bay made mistakes, but he doesn't deserve to be a pariah forever.
Going back to the subject of healthy relationships, how adorable was Gabe's proposal to Melody? I'm beyond thrilled Melody has found someone who makes her happy, and Gabe really is a great guy. It's also admirable for them to want to adopt a child who's deaf.
The only problem I have with Melody and Gabe adopting a child is Melody has to be completely on board and can't constantly doubt her decision. When they were having their interview with the adoption agency and heard it could happen quickly, Melody was so apprehensive about the whole thing it made me cringe, even though I know where Melody's coming from.
Melody has been through the whole baby stage and to go back to it is extremely daunting and nerve wracking, but it will end up being so rewarding for Melody, and Gabe as well, in the long run. They would be perfect parents to those twins, and I hope they end up adopting them.
Moving on to another couple, poor Daphne and Mingo didn't know what they were getting themselves into when they invited Mingo's parents over. Who knew Larry would be the one who put the Kennish family in financial ruin? At least Mingo and Daphne caught on to the tension between John and Larry and tried to fix things between the families.
This is one of the reasons why I have really enjoyed the relationship between Mingo and Daphne. They compliment each other well and help each other out. Mingo took the time to learn sign language and Daphne has accepted Mingo for who he is – hopefully they won't let the fact that John and Larry hate each other ruin what they have. 
It was actually really sweet how Mingo and Daphne were trying to get the men to suck it up and get along, but it was doomed from the beginning – playing basketball together was not the best idea in the world. John's reasoning to not allow Mingo back in the house made absolutely no sense either.
At the end of the day, the financial problems John is facing are his problems and he can't fault Mingo for those financial mistakes. Thank goodness Kathryn was there to put John in his place and essentially tell him what he did was wrong and he has not right to keep Mingo away from Daphne. I love when Kathryn's fierce side comes out because she can be such a badass. 
In the end, Melody announced her engagement and possible adoption to both Travis and Emmett who were both happy for Melody. The only problem I see happening is Emmett still not getting over Travis having feelings for Bay. I'm all about the "bro code," but Emmett needs to just let it go for the sake of Melody and his family. 
Do you think Melody and Gabe with adopt? Will Tank ever get a chance to have a normal life? Were you also wondering where Toby has been?
Did you miss tonight's episode? You're in luck! You can watch Switched at Birth online now via TV Fanatic anytime.
Next week on Switched at Birth Season 4 Episode 17, Kathryn and John come clean about their financial problems. How will Bay and Toby react to the news? Also, Lily reveals she may be moving back to London to be with her family. Will she really go through with it? Find out Monday, October 5 at 8/7c on ABC Family. 
Samantha McAllister was a staff writer for TV Fanatic. She retired in November 2018.