The Mysteries of Laura Season 2 Episode 2 Review: The Mystery of the Cure to Loneliness

Samantha McAllister at .
Why must romance be so damn hard?
On The Mysteries of Laura Season 2 Episode 2, Laura continued to be closed off about her feelings for Jake and it's already getting incredibly frustrating. On the plus side, Captain Santiani was much easier to stomach, and I actually found myself liking her a little more; though she certainly needs to work on her people skills.
Let's not waste anymore time and discuss, "The Mystery of the Cure to Loneliness."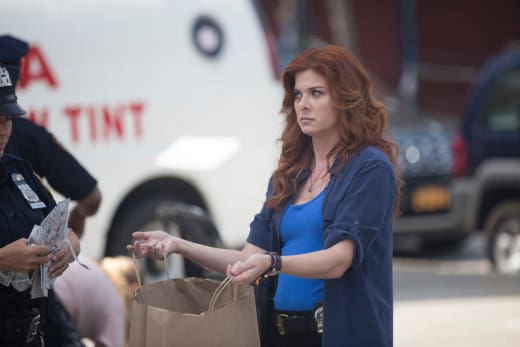 Who else was surprised to see Tony? After the look Laura gave Jake at the end of The Mysteries of Laura Season 2 Episode 1, I was surprised to see she was still seeing Tony. I am certainly not complaining over seeing Tony again because he really does work well with Laura.
Tony understands Laura's work and doesn't show even the slightest bit of jealousy when it comes to her working closely with Jake. He also seems to understand the boys come first in her life which is another huge plus for him, but the relationship is pretty much doomed because of Laura's underlying feelings for Jake.
Those feelings really showed when Laura seemed shocked by Jake not having a problem with her having a hickey. She seemed almost hurt by the notion Jake may be getting over her or, at the very least, is OK with her being happy and moving on with her personal life.
Jake not having a problem with Tony is refreshing because it shows he has grown up. Jake seems to realize, after everything Laura did for him, she deserves to have some happiness, and if she isn't going to find happiness with him she might as well find it with a man who is a genuinely good person. 
Moving on to the case of the week about a woman named Nina who Jake wanted to classify as a suicide even though Laura was convinced it was murder. It wasn't a huge surprise having Captain Santiani being against classifying it as a murder without proper evidence, and I found myself actually agreeing with her.
It doesn't make sense to go after a case without evidence, but Laura did provide a good argument to Captain Santiani about why she thought Nina was murdered. It all seemed staged and Captain Santiani should have been able to see both sides of the case instead of just focusing on the suicide angle.
Speaking of Captain Santiani, it made absolutely no sense at all for her to send Billy and Meredith to investigate the case when it was Laura and Jake who were on it from the beginning. I'm not understanding why she doesn't want Jake and Laura to work together on things. It's not like they aren't able to separate person life from professional life.
Even when Jake and Laura showed Captain Santiani proof Nina was faking cancer she still didn't want to believe they found something as a team. Thank goodness Laura came up with a good enough theory to prove to Santiani that they needed to look at the case differently and continue the investigation.
Of course Captain Santiani wasn't completely off putting. When she snapped her fingers at Laura to get her to stop talking so Meredith could finish, I couldn't help but laugh. It's nice seeing a different side to her, and it's becoming clear she's trying to be a hard ass because she wants to prove to those above her she's worthy of her position. It makes perfect sense.
Another thing I like about Captain Santiani is she puts Max's skills of investigation to good use, which is always wonderful to see. I enjoy seeing Max being integrated into the team more and his utter giddiness over working the cases is beyond hilarious. Who knew you could be so excited over graphs? 
You like the graph? I was thinking pie chart but at the last minute I went with the graph.

Max
Going back to Jake for a moment, did anyone else catch Jake suspiciously taking a pill? I do not want to see them go down the addicted to pills road -- it's been done to death on countless shows. If Jake is starting to get addicted to pills this could explain his openness to Laura being with Tony – he's not in the right state of mind.
In the end, Jake interrupted a romantic moment between Tony and Laura and Laura showed off those feelings for Jake yet again. She didn't need to assure Jake about her relationship with Tony, and Jake even gave her the perfect opportunity to come clean about her feelings, but she again decided not to say anything. She needs to just be honest with him and stop stringing Tony along.
Do you think Laura should be honest about how she feels? Did you catch on to the Meredith and Billy relationship? Who else is loving Max's integration into the team?
Did you miss out on tonight's episode? You can watch The Mysteries of Laura online now via TV Fanatic anytime. Just make sure to come back to let us know what you think.
Next week on The Mysteries of Laura Season 2 Episode 3, Laura and the team investigate the curious murder of a tech genius, but they need to find the killer before anyone is able to steal the victims ideas. Will they find the killer in time? Find out on Wednesday, October 7 at 8/7c on NBC.
Samantha McAllister was a staff writer for TV Fanatic. She retired in November 2018.