You're the Worst: Showrunner and Stars Preview Season 2

Carissa Pavlica at . Updated at .
Yes, TV Fanatics, we're going to be covering the immensely funny FXX comedy, You're the Worst Season 2.
Just in time to preview the premiere tonight, we had a chance to jump on a couple of conference calls with Showrunner Stephen Falk and stars Chris Geere and Aya Cash, who play Jimmy and Gretchen.
Without giving too much away about what to expect, following are a few highlights. Make sure you're back here tonight for full review of You're the Worst Season 2 Episode 1. You don't want to miss it!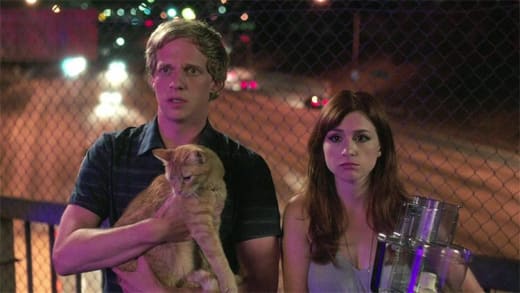 Does every romantic story have to focus on characters with whom you identify? The characters on You're the Worst are flawed, but not so much as to be unlikable or undeserving of love. A lot of the discussion on the calls spoke directly to human behavior, whether writing about it, understanding it or playing it.
Falk credits some of the success of You're the Worst to FX allowing him to cast unknowns in the lead roles "and their belief in my desire to have the best actors I could find and not the prettiest or those with a million Twitter followers or whatever a lot of casting decisions are made by."
He also tasks himself and his writers with "digging deep and always being cognizant of how human beings behave and feel and treating relationships, while they're incredibly silly and messy and dumb, they're also our primary relationships apart from our parental relationships. They're important to us and to treat that importance with respect lifts us a little above the crowd."
Cash is excited for reveals to come this season "through backstory and what they've dealt with before they were in a relationship before. You'll see Jimmy's family and you'll get to see a little bit of Gretchen's past come back."
Falk carries that over into his keen awareness of timeless comedic moments, understanding how humans interact and focusing on that instead of the cliche language, tone and rhythm of the day. As a big fan of the silly, he doesn't think he could ever rid it from his writing.
"I think we're exiting a time when executives think characters have to be 'likeable,' which I think is a complete fallacy and a complete misunderstanding of not only of comedy, but of human behavior and the reality of humanity. I think that hopefully American television is entering a period where we allow our characters to be actually flawed and not just TV flawed because we all are, and all that can mean is that we are bringing our television writing a little closer to the reality of human behavior and of human beings in general as being dark and damaged and fucked up and having bad motivations and terrible instincts and making terrible mistakes and still yearning for connection."
As Geere shared, "As actors and as characters we've been put in positions that are even more uncomfortable than the first year and it's been a wonderful experience."
"When Jimmy and Gretchen take a step toward domesticity, what does it do to them, how does it scare them, and in what ways will that fear manifest into behavior?" That's a little bit of what Falk says you can look forward to at the beginning of Season 2, but also assures us a completely different story not even connected to co-habitation will take over shortly thereafter.
With a character like Edgar, Falk thinks it's OK if the audience laughs at him sometimes, as long as the writers have respect for all their characters, even "awful ones like Becca and Vernon."
He doesn't like to see them sad for that long, but at the same time, "it's fun to kick your characters" and shake them up a bit by throwing them into "shitty situations" where they have to struggle their way back out. Edgar will get more identity beyond being a veteran, and he'll get a hobby and a love interest, but will continue to deal with the after effects of combat and reentering the real world.
Geere adds, "Initially he's [Edgar] upset at the amount of noise and mess that they're making, but really soon Edgar gets embroiled in his own story and his own life and things going on so I think he cares a lot less, which is a better for for him but not so much for the sanity of Jimmy."
Lindsay, meanwhile, will be "floundering in the wake of having been abandoned by someone, yeah, who she didn't really love that much," but he left.
She'll be challenged living on her own on a rudimentary day-to-day level and emotionally, as well as becoming aware of Edgar's crush and deciding how to handle it. If Lindsay isn't a wife of a guy with a bit of cash, who exactly is she? She'll be searching for her place in life, while also being "mad that Paul has a girlfriend, so she wants to destroy that."
Adds Cash, "Both Edgar and Lindsay are very much supporters of of Jimmy and Gretchan in terms of their relationship, but what makes them so wonderful is they really could be the stars of their own lives, as well. They really aren't just sidekicks and you'll see their storylines played out in bigger ways this season."
For the record, Cash thinks Jimmy and Gretchen are right for each other.
"I think the truth is that you can only learn something in a relationship with another person. Sometimes that's friendship and often that is romantic love because it is the thing that demands the most of you, and therefore there are only certain things you can learn about yourself when you are in a romantic relationship."
Cash continued: "They're going into something that they think will end badly, but it's worth it to go through the journey together even if it doesn't work out and I think that's the most romantic thing they can do."
Geere agreed: "Yeah. I like that. That's brilliantly put, Ms. Cash."
Carissa Pavlica is the managing editor and a staff writer and critic for TV Fanatic. She's a member of the Critic's Choice Association, enjoys mentoring writers, cats, and passionately discussing the nuances of television and film. Follow her on Twitter and email her here at TV Fanatic.