Awkward Season 5 Episode 7 Review: The Big Reveal
Paul Dailly at . Updated at .
For an episode titled "The Big Reveal" you'd think that's what we'd get, but that wasn't exactly the case.
On Awkward Season 5 Episode 7, Lacey came clean to Jenna about telling Matty to leave her alone when they were in Mexico. It was a pretty dull reveal, and I honestly don't think it should make Jenna reevaluate if she loves Matty because she already knows she does. 
Jenna has been very mature as opposed to every other teen on this show, but her reaction to this was pretty childish. I know Lacey has done a lot of questionable things in the past, but deep down, she loves her daughter. Thankfully, Jenna didn't stay mad for very long.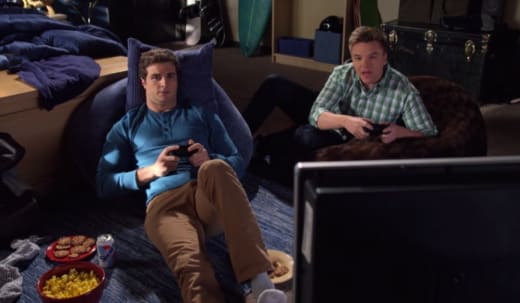 It really sucks that Jenna still hasn't told Matty how she feels. The promo for like the past three episodes has teased her telling him, but it still hasn't happened. The writers are giving us the run around, and it's wearing pretty darn thin at this stage. I'm not denying the episode was a cut above the tripe we've been served recently, but that's thanks to the adults on the show. 
Val returned at Lacey's reveal party, and she instantly brought the comedy with her. I'm not sold on her reasons for disappearing for so long, but she's back, and I couldn't be happier. It was a bit rude that she wouldn't shut up about her travels during the party, but she realized her error and got Lacey so excited about the gender of her baby. 
Lacey and Val are really good friends, so we should be in for some fun moments with them coming up. 
I couldn't commit to Biggie until I had seen the world, so I pulled an eat, pray, love.

Val
Tamara finally realized she was being an annoying mess and it looks like she's officially on the road to recovery. She needs to ditch the marine for good and move on. He doesn't want her now. I'd actually be really happy if she reunited with Jake, but then it would mean Gabby would probably be written out the show and she's pretty fun. 
It's good to know that Matty is getting into college. It was touch and go for a while, but we now now that he's doing something with his life, so there's that.
Sadie's mother is continuing to be disappointing. She's just using her daughter for anything and everything. I hate how she implies that she was such a good mother to everyone. It's about time she gets a taste of her own medicine, and I'm hoping Sadie is the one to serve it to her. 
Oh, I know you better than ever and I am so looking forward to helping Ted know you just as well as I do.

Sadie
"The Big Reveal" was another pointless episode of Awkward. This time jump can't come quick enough. This show needs a new lease on life because it's running on fumes right about now. 
What did you think of the episode? Should Sadie get revenge on her mother? Hit the comments below!
Awkward Season 5 Episode 8 airs Monday October 19 at 10/9C on MTV.
Paul Dailly is the Associate Editor for TV Fanatic. Follow him on Twitter.