There's another one of her?!
On Blindspot Season 1 Episode 6, we got some more clues about the tattoos and we're left with a lot to ponder as we approach the final few episodes of the fall run.
The cases here are pretty different from any other show with procedural elements, so they're succeeding in holding my attention.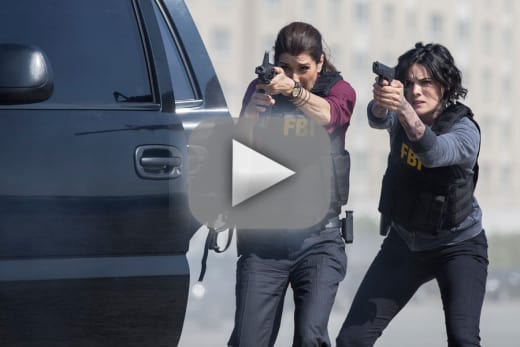 The addition of Anna this week was a welcome one. She had a lot of chemistry with practically the whole cast and I wouldn't mind seeing her integrate a bit more into the team. She's only seventeen years old, but she would be an asset to them. Patterson would probably be a little jealous because of the age difference and how much she knows.
If she was never hauled in, we wouldn't have gotten this much closer to discovering what these tattoos really mean. She was a smart kid that appeared way too mature for her age.
My only gripe with her was that she believed her contact was genuinely within the NSA. She should have known that there would be people out for her software. It was a crazy good idea. 
It was a particularly somber week for Jane. She feels alone and I don't blame her. She's helping the FBI uncover clues about her past and she doesn't even know whether she's a bad person. I'm surprised she isn't having more nightmares.
Wanting a short term escape, she asked Anna to go out with her and then got in trouble for it by Weller. What the hell was his problem this week?
I get that he's got a lot running through his mind, but surely the last person he'd take it out on is Jane. It's been proven that we tend to take things out on the people we love, so can we assume that his feelings for Jane are developing? Hopefully not, but I know the show won't rule it out. 
It would almost be like he is taking advantage if they go there before she gets her memories back. Weller needs to be a little more likeable because I wouldn't be surprised if he's the one driving audiences away. The show is still doing really well and there's no question whether it'll be back for a sophomore run, but expect a lot of changes before we get there. 
I've been very against Weller's father, but the way he acted tonight really made me question whether I had it all wrong. He was shaking with relief when he got the news that Taylor was alive. I'd like to think that this put the same seed of doubt in Weller's mind and that he makes amends with his father before his passing. I'm not saying we should completely rule him out yet, but he's in the clear for now. 
"Cede Your Sould" was another solid episode of this new NBC drama. We're six weeks in and it's continuing to improve from it's average premiere. 
Other tidbits from the episode:
Did anyone else buy Patterson on Facetime to her boyfriend? I'm pretty sure that would be against FBI policy to be doing that on the job. 
Tasha is slowly, but surely becoming my favorite character on the show. Hopefully she manages to kick her gambling addiction and remain the clear.She's going to get herself killed. 
Did anyone else want to see another showdown between Weller and Mayfair after Patterson told him about her not wanting her to investigate further?
It looks like there could be another one of Jane in the mix. How is this all going to play out?
Remember you can watch Blindspot online, right here on TV Fanatic. Get caught up on the most addictive new drama this season. 
What did you think of the episode? What's coming next? Do you want to see Jane and Weller get together? Chat with me in the comments. 
Note: Blindspot Season 1 Episode 7 airs Monday November 2 at 10/9c on NBC.
Paul Dailly is a staff writer for TV Fanatic. Follow him on Twitter.