Bones Season 11 Episode 5 Review: The Resurrection in the Remains

Christine Orlando at . Updated at .
It was Halloween on Bones Season 11 Episode 5, and all bets were off. From headless corpses to witchcraft, flatlining to pranking, there was plenty of spooky fun to go around.
Not to mention Ichabod Crane dropping in for a visit that gave us both historical and supernatural moments.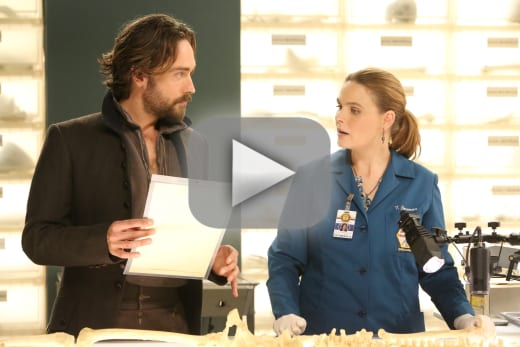 When you watch a show week in and week out, there are little things you forget, like the fact that The Jeffersonian was named after Thomas Jefferson or that its archives are filled with old documents, some of which were written by Ichabod himself. 
As Hodgins pointed out in this Bones quote…
Pagan symbols, a headless corpse, Halloween. Is it just me or is something other worldly going on here?


Hodgins
Other worldly…like the world of an entirely different series? Yes, this was the cross over episode with FOX's Sleepy Hollow. 
Is handwriting really that precise a science? I thought Ichabod's explanation about the matching handwriting was an adept way of handling the situation. As Brennan said, what other explanation could there be? Ichabod was obviously not a 200 year old man…or was he? 
But Brennan has never believed in the hereafter or the supernatural. She's a women of science who requires proof. It's nice to know that hasn't changed, even if other things have.
Leave it to Brennan to make a exact edible mold of a brain for her young daughter's school party. It wasn't all that many years ago that she couldn't have pulled off that prank on Booth. I'm not sure she even would have tried, but being married and having kids have let her grow and have more fun. 
Hodgin's demon contact lenses were startling. I can only imagine what Halloween is like in the Hodgins household. I wish we had seen what all of the kids were wearing.
Sara's foray into exploring the hereafter ended poorly. Perhaps she should have watched the Julia Roberts movie Flatliners. It didn't go well for them either. 
Where Sara saw something wonderful, Joel saw nothing at all. Was that because Sara saw what she expected to see or was her destiny going to be better than Joel's? Either way, he snapped, lost his faith and killed Sara with a skull. 
Thankfully this installment had a lot of fun moments, such as...
Booth comparing soy cheese to hell.
Brennan encouraging Ichabod to explore the sexual side of he and Abbie's relationship.
Ichabod claiming that Benjamin Franklin named a drink Fondling the Forest.
Hodgins saying he was a conspiracy theorist and not a supernatural nut and Cam looking at him like she wasn't sure there was a difference.
Do you think Sara really experienced the hereafter in her experiments? Did Booth or Brennan get off the best prank?
Check back in on Monday to see what our Bones Round Table Team has to say and then next week for our review of Bones Season 11 Episode 6.
If you can't wait for more spooky goodness, you can watch Bones online here at TV Fanatic.
C. Orlando is a TV Fanatic Staff Writer. Follow her on Twitter.