Kids were a prominent aspect of  Chicago PD Season 3 Episode 2, as the team investigated the death of an eight year old boy.
Antonio took the case to heart, Olinsky made baby steps with his daughter and Roman revealed he's helping a child with leukemia. 
Below, TV Fanatics Elizabeth Harlow, Paul Dailly, and Stacy Glanzman are joined by super fan Ann to discuss their thoughts on the case, Lindsay and Halstead's relationship, and Bunny's plan to hurt Voight. 
What did you think of the case?
Ann: It was good, When I first saw the little boy in the shed, I thought the gun that the thug had thrown had killed him, but further investigation showed differently. It showed Antonio as a parent. Actually, I liked that part. Also when Olinsky had a talk with his daughter, and she really wanted him in her life, but couldn't tell him she didn't know how. Lindsay and Bunny, just kill her and be done with it. She is going to be trouble.
Elizabeth: That case was brutal, but I really enjoyed the twists the writers threw at us. I did not see the part with the mechanic's kid coming. It was also pretty classic Dick Wolf, managing to cram so many different issues into one case.
Paul: It was one of the saddest cases on the show to date. It tugged at the heart strings.
Stacy: That case was really sad. I liked how they connected it to what was going on in the character's lives.
Predict how the Bunny/Voight situation will end.
Ann: Well, Bunny forgot how Voight gave her money and saved her ass from the drug dealers. She might not want to go there. It will turn out bad for Bunny, I am afraid. But I still think they should find some way to put her in jail for a long time. Hank can make her disappear, so Bunny should be very careful about trying to get even with Hank. Be done with it. Maybe bring Teddy back, and let him be Lindsay's aid together with Halstead.
Elizabeth: I think things might look rough for Voight for a while, but Bunny's not exactly a credible witness. Voight also plays dirty enough that he might be able to weasel out of this. On the other hand, it's more than plausible (probable even) that he is guilty of what Bunny's accusing him of doing.
Paul: I don't think anyone will take Bunny seriously. She's a drunk, and I just don't understand why anyone would render anything she says as credible.
Stacy: I think she is going to seriously regret messing with Voight. I don't think she's very credible either, but she might be able to convince someone to take a closer look at something Voight would rather stay buried. I hope it ends with Bunny leaving Chicago for good.
Will Lindsay and Halstead get back together this season?
Ann: Well, I hope so, the people need to see this happen. It is kind of funny, I was in the store the other day, and I overheard someone say, "Well I think that Erin and Jay should get married and have a baby and shove that up Hank's ass." It was like they were talking about someone they actually knew. So yeah, I think they will be back together before long. Hank was telling Halstead that he didn't care what their relationship is, he just needed to know someone had her back 24 hours a day. With Halstead's reply, "I um, yeah, always." Which means Hank is giving a little, I think.
Elizabeth: I'm not so sure. I've never seen them as the grand sweeping romance of the show. More as two workers who get along really well and are both hot and single and like to get naked together. There's also Lindsay's recent setback to consider, it would probably be best for her to have some time to focus on herself.
Paul: They're great together, but I just don't see it on the horizon. She needs a friend to help keep her on the straight and narrow. Baby steps for this duo.
Stacy: I'm guessing February sweeps for a reunion of some sort. I don't know if it'll be a full-fledged relationship or just a hook up, but I'd guess something happens by the end of the season at least.
What was your favorite quote/scene?
Ann: The one with the Halstead brothers talking about Lindsay coming back. Antonio and Burgess and Ruzek in the locker room. Olinsky with his daughter.
Elizabeth: Can anything about a vicious child murder, vigilante justice, or father failing his daughter be my favorite? I'll just say that I thought Marina Squerciati did a superb job handling the devastating reveal of the little boy in the fridge.
Paul: Roman telling Burgess the truth. Who'd have thought they'd manage to make Roman likeable?
Stacy: I think I have to go with Voight asking Halstead to have Lindsay's back.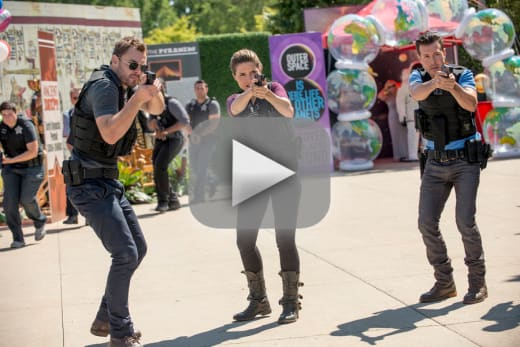 Did anything disappoint you?
Ann: Just that Jay and Erin are not back together, hopefully soon, and Ruzek and Burgess, well that should be something to look forward to, should show more of the engaged couple as a couple.
Elizabeth: Once again, shame on you Olinsky. His handling of his new found daughter is infuriating. He accuses her of using him for money, but it's not like he's willing to put anything else on the table for her.
Paul: Bunny being present. She's so freaking annoying. Can she leave Chicago like right now?
Stacy: I'm not sure having Burgess find that needle in Roman's bag was at all necessary. Yes it made Roman marginally more likable, but they made a bigger deal out of it than was needed.
Stacy Glanzman was a staff writer for TV Fanatic. She retired in March, 2019.