Code Black Season 1 Episode 2 Review: We Plug Holes

Elizabeth Harlow at . Updated at .
Whew! Once again, Code Black lives up to it's promise to get my heart pounding!
Code Black Season 1 Episode 2 managed to keep up the pace that the premiere set, which is no easy task. It's almost dizzying at times trying to keep up, but the result is that you feel like you've truly been dropped into the middle of a Level One ER.
Between multiple vehicle accidents and combative hockey players, blind mountain climbers and little old ladies, there was no rest for the first years.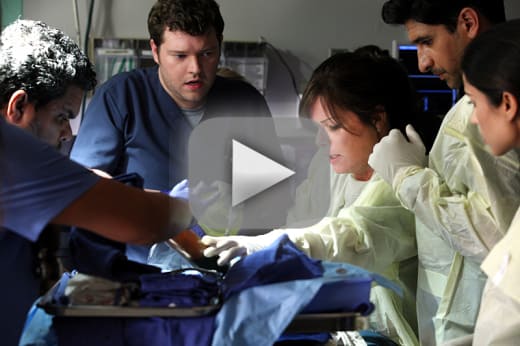 "We Plug Holes" managed to work in a little more levity and let us get to know the staff a little bit better. That's certainly going to take time, because Code Black is giving the medical cases the spotlight.
If you're a fan of the genre (and like to occasionally peruse the New England Journal of Medicine) like me, it's awesome, but it does cut into the time allotment for character development.
Still, I'm pretty sure I picked up on some sparks between Christa and Neal tonight. I'm in no hurry for this show to get all sudsy, but a little flirtation certainly livens things up. It also gives me hope that Christa will get to be more than the grieving mother.
While that will always inform her character, it would be good to see her have other facets to her personality.
Gangrene is my jam!

Dr. Christa Lorenson
A part of me likes the dynamic of camaraderie the show runners are going for, but if they really want to be the next ER, they should remember that some of that show's best characters – Weaver, Benton, Romano – were not beloved by their coworkers. I'd find it more realistic and more entertaining if there was some dissension in the ranks. Neal started off questioning Leanne, but it's clear that they are ultimately friends.
A little animosity can go a long way
Although I love Dr. Taylor's witty one-liners, I'm eager for him to become more than just the comic relief on the show. He's the director of the ER, it seems like he should be doing more than walking around making jokes that HR would cringe over.
I assume at some point he'll be called upon to defend Rorish after she screws up with some crazy experimental treatment, but I'd like to see him teaching or practicing medicine in the meantime
Dr. Edward Darius: I play racquetball with Ed Harbert, CEO of this hospital.
Dr. Mark Taylor: Did you know only one percent of males can perform auto-fellatio?
I'm also hopeful that Guthrie's role will be expanded. His scenes were disappointing in their brevity as well as their content. Surely the guy who is supposedly the longest serving attending gets to do more than intake on an old lady who swallowed four dollars in change.
He also seems the most likely to actually take the time to teach the residents something instead of just dumping them in the deep end. 
Jesse remains the heart of the ER, guiding the residents through the pitfalls of self-doubt. He's a little too Jiminy Cricket for my tastes sometimes, but with residents who are lacking in confidence and finesse, it's certainly needed at times.
He handled Mario really well, and his summation of "An Officer and A Gentlemen" was funny to boot. I'd love to see him get to handle some minor cases on his own, it seems like he'd be great with patients. 
Jesse Salandar: Now, Mayonaisse joins the Navy to fly jets. See, he's good at almost everything. Fastest runner, best fighter, smart, and fearless. Now, if the movie were just called "An Officer," he'd be just fine. But it's not. It's called "An Officer And A Gentleman," which means you have some things to learn.
Dr. Mario Savetti: Like what?
Jesse Salandar: Humility. Patience. Kindness. Charity. You know, the big ones.
The medical cases were fascinating, and there's an attempt to connect with patients to the audience. The coin lady was adorable, and the blind kid certainly showed that the writers are capable of creating sympathetic characters with limited screen time.
I especially loved the use of real medical footage during the surgical scenes. It may mean I'm a nerd, but watching that ovary pink up was so cool!
I was also impressed with Rorish's quick thinking of using a Foley tube to stop the kid's nosebleed, and then Christa's quick thinking to replicate the process with Laura. She was definitely winning the gold star tonight. Angus came in a close second, but his lack of confidence got him again.
The thoracotomy was pretty awesome (although I wish we could have gotten a better visual), although it made me wonder if anybody ever dies in Angels ER. 
Watch Code Black online and let us know your thoughts in the comments section!
Elizabeth Harlow was a staff writer for TV Fanatic. She left the organization in October 2018.