Crazy Ex-Girlfriend Season 1 Episode 1 Review: Josh Just Happens to Live Here!

Christine Laskodi at . Updated at .
Rebecca Bunch is certifiably insane.
Despite her insisting on Crazy Ex-Girlfriend Season 1 Episode 1 that she did not move to West Covina, California for Josh Chan, I think it's completely safe to say that our heroine is in the middle of a complete nervous breakdown.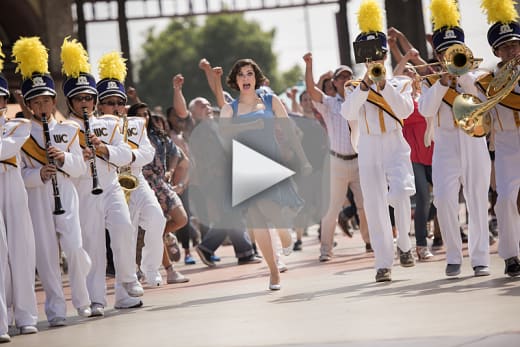 Dear God, I don't pray to you because I believe in science. But I don't know what to do. Give me guidance, please. Ah-men. A-men. Amen?

Rebecca Bunch
Initially, Rebecca is like many females on television. She feels trapped in her life as a high-powered New York City lawyer, and she finds herself unsure of whether or not to accept that big promotion at her firm.
That's when an ad for butter seems to follow her wherever she goes asking the question, "When was the last time you were truly happy?"
It's also when Rebecca stops following the norm and transforms into the most original female on television today.
Where many shows follow a mentally stable character learning how to deal with changes in their life responsibly (with some drama weaved into their stories), Crazy Ex-Girlfriend chose to go in a completely opposite direction.
Right away, the audience is being asked to root for a heroine who is not making choices with her sanity but rather leaning towards stalker tendencies and who has also completely abandoned the medication which keeps her brain in balance.
Rebecca: Where are you from again?
Josh: West Covina, California. 91791!
Rebecca: West Covina, I remember that. That's near the beach, right?
Josh: Yeah, only two hours...well, four in traffic.

It's a bold move on the part of The CW, but I believe it's a bold move that completely pays off. Once you understand, and get behind, the absurdity of the premise, the show allows for you to sit back and laugh at characters that would make you cringe in a real-life scenario.
I applaud The CW for giving us a completely unique program as opposed to putting another superhero or vampire show on their network.
Rachel Bloom, who plays Rebecca, is undeniably funny. If you've ever wondered what a love child between Tina Fey and Amy Schumer would look like, it's Rachel Bloom. One quick Google search of her previous comedy endeavors will leave you crying from laughter.
Crazy Ex-Girlfriend does seem to have a very specific target audience. If you aren't a fan of musical comedy, Funny or Die videos, and female comedians, the odds are not in your favor that you will enjoy this show.
If you do find yourself to be passionate about those things, then this is most definitely a show for you, and you'll be pleased that you've tuned in. You may even find yourself humming "West Covina" all day long, as I did.
To be clear, I didn't move here for Josh, I just needed a change. Cause to move here for Josh, now that'd be strange. But don't get me wrong if he asked for a date, I would totally be like, 'that sounds great!' Did it sound cool when I said, 'that sounds great'? Okay how about now, [changes tone] 'that sounds great!'

Rebecca
Speaking of "West Covina," it seems as though musical numbers on television are quite polarizing, unfortunately, due to the way in which they were handled on Glee.
Unlike its musical comedy predecessor, Crazy Ex-Girlfriend manages to organically place original comedic musical vignettes into their storyline, sans the undeniable cheese.
Those musical moments not only serve to make us laugh, but they give us some great insight into Rebecca, who seems to be stuck in a phase of arrested emotional development, never mentally moving past her high school theater camp days.
It's very sad for Rebecca, but twistedly funny for the viewer to be watching.
Rebecca seems to be on a self-destructive path to find Josh Chan, and I have to ask myself why. Josh (Vincent Rodriguez III,) seems to be a very dull and obtuse character, and I can't understand exactly why she is so desperate to gain his affection, other than to bring it back to that state of Rebecca's development.
She can do better.
Greg: Why don't we just go [to the party] together?
Rebecca: Great, yeah okay, so you'll come to me...in a car?
Greg: Yes, like a date, cause you're pretty and you're smart and you're ignoring me, so you're obviously my type.
Rebecca: I'm sorry, what were you saying?
Greg: Perfect.

That brings me to Greg, the self-deprecating bartender who befriends Rebecca when she unsuccessfully tries to orchestrate a breezy meet-cute with Josh. Greg is played by Santino Fontana, who is best known as the voice of Hans, from a little-known Disney movie, Frozen.
Greg is absolutely the guy to whom Rebecca should be turning her attention. He's got more charisma and charm than Josh, and a romance between them would be so fun to follow with their great balancing act of flaws. Sadly though, I have a feeling the focus will stay on Josh Chan, at least for the foreseeable future.
Sorry, Greg. I guess some people aren't worth melting for.
Along with Greg, another character that fits very well into Rebecca's nervous breakdown is Paula (award-winning Broadway actress, Donna Lynne Champlin). While I was ready for Paula to be Rebecca's nemesis throughout the series, I really enjoyed the twist that made her a sidekick instead.
Paula: You wanna go drive by his house?
Rebecca: You know where he lives?
Paula: This is going to be so much fun.

Paula is a character I look forward to learning more about, especially in terms of why she is so easily invested in watching a stranger go through such an obvious downward spiral. The very fact that she has already looked up Josh Chan's address for stalking purposes is telling.
Rebecca isn't the typical character that we root for on television, but in this case, I think it works. One thing is for sure; Crazy Ex-Girlfriend is going to be an interesting and unique series to follow this season.
God, what? This is how you get ready? This is horrifying. Like, a scary movie or something...like some, nasty ass patriarchal [bleep]. You know what? I gotta go apologize to some bitches. I'm forever changed after what I just seen.

Rapper
High Notes:
The Sexy Gettin' Ready Song sequence made me laugh out loud. From the moment I saw the blood hit the bathtub, I knew that I was all in on this show.
Rebecca's boss, Darryl (Pete Gardner), will no doubt be a source of inappropriate comedy. The 1/8 Chippewa is already on my favorite TV bosses list.
Low Notes:
Rebecca is aware enough early in the episode to recognize her stress level and take her medication. However, she's not aware enough just a few minutes later to recognize that she is in the beginning of a complete mental breakdown?
Josh Chan…just so bad. If we're chasing a guy across the country, shouldn't he at least be interesting enough that we WANT to follow him?
What are your first impressions of Crazy Ex-Girlfriend? Does Rebecca hit a high note with you, or does she fall flat?
Are you willing to overlook her obvious flaws for the sake of a funny story? Does the music make you laugh or groan? Hit up our comments section, and tell us what you think!
NOTE: You can always watch Crazy Ex-Girlfriend online any time you need to catch up.