Dancing With the Stars Season 21 Episode 6 Review: It's Getting Hot in Here!

Ashley Bissette Sumerel at . Updated at .
It's switch up week!
On Dancing With the Stars Season 21 Episode 6, the celebrities were given the task of dancing with new professional partners, which for some of them, brought out their very best moves.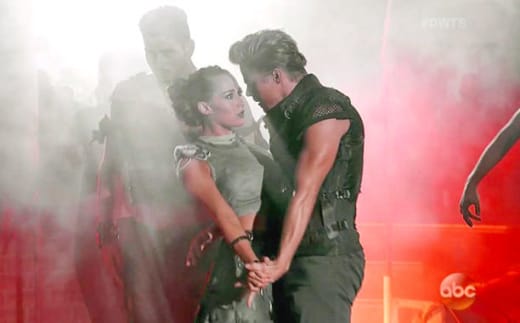 I always find the switch-ups to be really interesting and important. It gets awkward, since the pros are suddenly responsible for helping each others' partners earn high scores. The pressure always seems the highest, but it makes for some really incredible routines. It also means the dynamics shift a bit, and new relationships start to form.
Alek and Emma may not have had the highest scores for the switch-up, but I'm pretty sure they won the night. It was about time for some semblance of romance, which always seems to happen at least once each season (whether that's real or artificial, we'll never know), but these guys aren't afraid to hide it.
Because holy wow that Rumba. I agree with Erin. Can we please get an encore?! It was captivating and magical.
The actual winners of the night, however, were Alexa and Derek, with a complete insane tango that they danced perfectly. As it happens, their perfect score is the first of the season. It's great news, but do you think that's also a little awkward?
Just one point behind were Carlos and Lindsey, with their super fun quickstep. It's going to be a heck of an interesting finale if both Carlos and Alexa, a married couple, both make it to the finals. If this competition was any indication, that may just happen.
Bindi didn't do so bad herself, and if there was a prize for reactions to scores, she'd win that easily. Her energy is definitely contagious.
I haven't talked much about Paula Deen this season, but she's dancing her heart out! She's got a good attitude, and I think she's fun to watch. Still, I don't see her making it a whole lot farther.
Now, it drives me insane when the judges' table is overcrowded, but let's be honest. Maks should be a guest judge every season, if only so we can get him back in the ballroom on occasion.
No one went home after the switch-up, but those scores will be combined with last week's, and someone will be going home next Monday. Who do you think it's going to be? And who do you predict will win that mirror ball trophy? Share your thoughts in the comments below!
Here are this week's scores!
Tamar and Louis (Samba): 29
Hayes and Allison (Viennese Waltz): 31
Paula and Mark (Jive): 26
Alek and Emma (Rumba): 29
Bindi and Val (Cha Cha): 37
Carlos and Lindsey (Quickstep): 39
Alexa and Derek (Tango): 40
Andy and Sharna (Argentine Tango): 36
Nick and Witney (Paso Doble): 35
Ashley Bissette Sumerel was a staff writer for TV Fanatic. She retired in September 2017. Follow her on Twitter and on Google+.