Aiden fantasized about murdering his fiancee, JJ considered an unexpected career choice and Shawn Douglas made a surprise return to Salem. 
Our TV Fanatics Jack Ori and Christine Orlando are joined by Andyroo and Catie from MyHourglass a Days of Our Lives Fan Forum to debate Shawn Douglas' return, Aiden's strange behavior and if the Neck Tie Killer will strike again.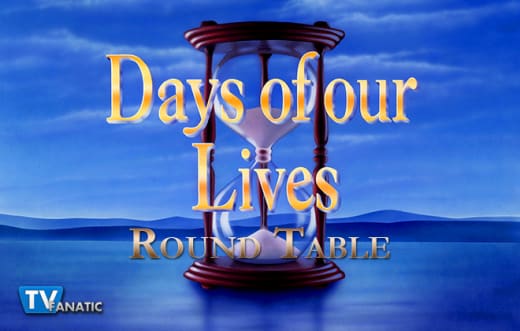 Are you surprised that Aiden is considering murdering Hope for the insurance money?
Jack: The story was headed this way. I'm disappointed the writers went in this stupid direction that doesn't fit Aiden's character.
Andyroo: I'm surprised he would go that far. Aiden's been shady, but overall he still seems like a decent guy who's caught up in a bad situation. His little murder fantasy seemed problematic though. How would Hope have been able to dial 911 in the midst of (or after) being strangled?
Catie: No, I'm not surprised. I never believed the story that Chase killed his mother. It didn't mesh with the recording of his wife being afraid of Aiden. His first wife had money, he didn't. It is not a stretch to believe he killed her for her money. Hope is just a means to an end for him.
Christine: I agree with Catie that Aiden's wife's death always seemed a little shady to me but I still think they're going overboard by having Aiden consider murdering Hope. They spent over a year making us like him only to reverse course because Bo's coming back. 
Do you think we'll have another victim of the Neck Tie Killer and if so, who?
Jack: I hope not but I'm afraid Ben will try to kill JJ once he gets wind of this cop thing, especially if Hope gets attacked while Chad is in the hospital and therefore has an alibi.
Andyroo: I hope so, if only to clear Chad's name while he's still in a coma. Ben is snapping and getting sloppy, but I don't think he'd be dumb enough to kill someone right now. Unless he does it in a non-Neck Tie Killer way. I think Aiden may attempt to kill Hope but get someone else instead.
Catie: I'm not really sure but leaning towards no. I think Ben believes he has Chad where he wants him, ruined and going to jail for a long time.
Christine: I hope not if for no other reason than I don't want to sit through yet another funeral. Having to watch Will's funeral right after Paige's was really depressing. 
JJ's considering becoming a cop. Great idea or a disaster in the making?
Jack: This could be good. I think JJ is better suited to following in Jacks footsteps as a reporter than police work. He's too rebellious and impatient to put up with low level police work before becoming a detective. But maybe wanting it enough will help him focus and lose some of those bad habits. Plus, I think Rafe would be a good mentor for him and he needs more male role models.
Andyroo: Disaster, simply because it will mean a life of incompetency if he stays with the Salem PD. He'll probably look good in a police uniform though, so there's that.
Catie: Great idea. It's time for JJ to grow up and have some direction. I am loving his friendship with Gabi and think it's time for him to do something with his life.
Christine: JJ needs direction and the police academy might give him the discipline he needs as well but Andyroo's comment about the incompetency of the Salem PD made me laugh. 
Shawn Douglas is back. Rate your excitement on a scale from 1 (not at all) to 10 (couldn't be more excited!) and explain why.
Jack: About a 2, honestly. Shawn is too old for an "I hate Mom's new boyfriend" story and this nonsense with Aiden ruins any enjoyment I would get from this family reunion.
Andyroo: Ten! When I first really got into Days full time, Shawn and the other teens were at the forefront. Seeing him, especially played by Jason, brought back some great memories. He's been gone way too long - 7 years!
Catie: 6. It's nice to have him back.
Christine: 6. He was never one of my favorites but as Bo and Hope's son, I'm glad to have him back. I'm also hoping that Belle and Claire aren't far behind. 
Was there anything that disappointed you this week in Salem?
Jack: Have I mentioned how I feel about this horrible Aiden story? I'd much rather see a legitimate love triangle. Also, Abby saying JJ is selfish because he's not putting Ben's feelings over his plan for his life? Seriously? Does this girl think about anything but the two men she's trapped between?
Andyroo: I'm really bored with the Bo and Steve scenes week after week. It's dragged on way too long, we get it. I'm glad they finally reunited, so we can lose all these yawn-worthy scenes. I was sad to see Sonny leave again too. I would rather him stick around and eventually end up with Paul.
Catie: The dance of Daniel and Nicole. They took what could have been a beautiful, intimate expression of their love and turned it into dancing with the stars. Really missed an opportunity there. Also Kayla, her attitude with Steve and her mom is getting old.
Christine: Abigail. Her parents were once top-notch investigative reporters yet she appears to have gotten none of those genes. Plus I've grown tired of watching her bounce between Ben and Chad. Does she every think about anything other than, which man wants me more?
What was your favorite quote, scene, or storyline from the week?
Jack: I loved JJ saying that it's HIS life. It's good to see him taking control of his destiny instead of self destructing. I also loved Lucas' grief scenes.
Andyroo: Kate and Sami's reunion at the funeral was heartbreaking. I thought the actresses did a great job. Ben's confession and Aiden's murder fantasy were both filmed in an interesting way. Ben's crazy was really showing. And of course, having Shawn back!
Catie: Lucas at Will's grave. Bryan is a revelation, his grief is palpable and he broke my heart. This is what Days of Our Lives used to be about. Families, connections and raw emotions. Just when I was giving up, it's gotten good again!
Christine: Lucas broke my heart. Will wasn't just his son, he was his best friend and his grief over losing him was tragic. 
If you need to catch up, check out our Days of Our Lives recap and review here at TV Fanatic. 
C. Orlando is a TV Fanatic Staff Writer. Follow her on Twitter.