Doctor Who Season 9 Episode 6 Review: The Woman Who Lived

Henry A. Otero at . Updated at .
Is it me or is Moffat clearly acclimating us to Clara's eventual demise?
We're halfway through the season and Jenna Coleman continues to be terribly underused. Instead of one last hurrah, Clara's taken a back seat to Missy and in Doctor Who Season 9 Episode 6 to Me/Ashildr as well.
That's not meant to knock Maisie Williams, she killed her guest spot on Doctor Who.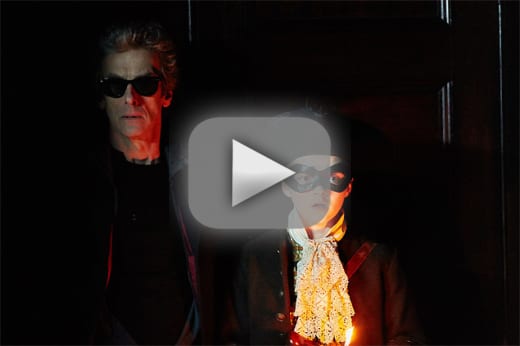 As far as two parters go, only Me/Ashildr (aka 'The Knightmare') connected these two latest adventures at all. It's almost as if Maisie Williams' character was the focal point and the tale just served to facilitate her appearance on Doctor Who Season 9. Luckily for us, Maisie was brilliant and an absolute pleasure to watch.
She even stole this one from Capaldi in my opinion.
The Knightmare's voice bit was just plain silly, especially when Maisie later spoke. It was like Me/Ashildr swiped Oliver Queen's voice modulator from Arrow, right? Actually, alien tech might have worked better if you ask me. Okay, enough nitpicking, the Doctor popping into the carriage and foiling
The Knightmare's robbery was a fun moment. I must say, I prefer this wacky Capaldi to Doctor Who Season 8's grumpier version. The actor is having a ball, and I think that energy translates to the audience. I'm enjoying Twelve more this year.
It didn't take long for Ashildr to reveal herself, only she had a new name.
The Doctor: Ashildr.
Me/Ashildr: That's not my name. I don't even remember that name.
The Doctor: Well, what do you call yourself?
Me/Ashildr: Me.
The Doctor: Yes. You. There's nobody else here.
Me/Ashildr: No. I call myself, Me. All the other names I chose died with whoever knew me, Me is who I am now. No one's mother, daughter, wife. My own companion. Singular. Unattached. Alone.
The fact the Doctor's visit was merely a coincidence weighed on Ashildr. Can you blame her? Though he confessed to having checked up on her through the centuries, he skipped the truly traumatic events.
If his visit had been less random, perhaps this installment would have been stronger rather than just a B-story featuring Maisie. Still, the team up was entertaining and a change of pace from what we've seen so far.
Immortality and Ashildr's flashbacks were a highlight here. Maisie really sold her character's history, and learning of the death of her children was devastating. Though we know Ashildr is not exactly stable, I resented the Doctor a bit when he refused to take her along.
Her presence in Clara's little selfie tells us Maisie will return, but she's no friend of the Time Lord. At least, that is what's implied.
Anyone else surprised the sonic shades were back? The duo's break-in was amusing. I loved the music!
The Doctor: Why are you still alone? What happened to the second immortality charge I gave you?
Me/Ashildr: No one's good enough.
When I saw Leandro, I couldn't get Beauty and the Beast out of my head. Of all this season's baddies, he's my least favorite. Sam Swift the Quick, however, was great. I never expected Me/Ashildr to use the second immortality chip on him though. That was an unexpected twist. Do you think we'll see him again as well? Rufus Hound certainly had a great time bringing Sam to life.
Wasn't is hilarious when Me/Ashildr got all dolled up and asked the Doctor how she looked? "Pink, are you coming down with something?" he replied.
Anyway, the alien artifact was meant to open a portal for Vincent Leandro. I had a feeling the dastardly lion was going to betray the immortal girl. Poor Clayton was meant to be the sacrifice. Yeah, that was the cruelest Me/Ashildr came across, though the Doctor knew she was better than that.
Sam Swift's comedy routine on the scaffold felt a bit forced. Then Ashildr hit him with the jewel.
The Doctor: His life force is opening a portal.
Me/Ashildr: To my new life.
The Doctor: Or to Hell.
Leandro's betrayal was predictable, but Me/Ashildr's change of heart was too abrupt. Sure, I realize the point was Ashildr was good all along, but the resolution was too darn easy. She reversed the rift by using the second immortality chip and that, as they say, was that.
I think what's more interesting is Ashildr and Sam Swift's future. She's got a partner now, will they get along or tire of one another?
Clara made a quick appearance in the final moments to remind us she's still the Doctor's companion. I loved hearing Capaldi mention Captain Jack Harkness. If there's one character I'd love to see back, it's Captain Jack. Do think that's a possibility?
Though the Doctor said he was glad he saved Ashildr, I'm not so sure. Again, this introduction is just the tip of the iceberg. Ashildr will be back.
What did you think of "The Woman Who Lived"? Why is Ashildr following the Doctor? Will she play a part in Clara's death? Was Leandro a disappointment for you? Your turn Whovians, please sound off in the comments below.
Relive this adventure again, watch Doctor Who online anytime via TV Fanatic.
NOTE: Doctor Who Season 9 Episode 7 is titled "The Zygon Invasion" and airs on Saturday, October 31.