Doctor Who Season 9 Episode 7 Review: The Zygon Invasion

Henry A. Otero at . Updated at .
Wait a second, Clara, Kate and all of UNIT are dead?!? How's that possible?
While I can appreciate Moffat's intention was always to revist the Zygon peace treaty from Doctor Who Season 7 Episode 15, the cold open recap was most welcome. There was so much timey wimey madness going on in the 50th-anniversary special, who can remember all the details?
Doctor Who Season 9 Episode 7 was basically set up. Give me part 2 now!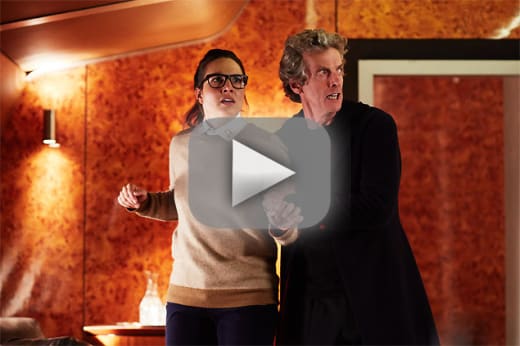 I loved seeing the Three Doctors again! Actually, the pre-credits scene made me miss Matt Smith all over again. Sure Capaldi is less grumpy this year, but he's certainly no Smith.
Imagine, if "operation double" (aka the Zygon peace treaty) sounded confusing in the 50th-anniversary special, it's only worse now that we're exploring the consequences of the thing.
Since The Day of the Doctor aired 2 years ago, I can't recall why anyone would think allowing 20 million Zygons to live on Earth was a good idea. Osgood even mentioned "unmasking" the aliens as baddies in her message. Seriously, who can truly trust a shapeshifter?
They're just shifty. Speaking of our favorite UNIT scientist, she called herself a hybrid (an ongoing theme this season), but is that the honest to goodness truth? I still want to know which Osgood the Mistress killed, don't you? Was that answered? Who knows?!?
I will say, the video message was a nifty bit of exposition.
Osgood 1: The Zygons are a peaceful race.
Osgood 2: Their shape changing abilities should not be considered a weapon.
Osgood 1: It's a survival mechanism.
Osgood 2: They embed themselves in other cultures and live out their lives in their new bodies, in peace and harmony. Mainly.
Enter The Osgood Box since, "Every race is capable of the best and the worst." The Doctor didn't trust the Zygons much, did he? Ultimately the cease fire broke down due to a rogue faction. Nightmare Scenario! Of course, since this is the first half of another two-parter, it basically just set up the events to come.
It's always fun to check in with UNIT, but they proved rather useless here. It was amusing that Doctor Disco kept leaving Clara voicemail messages, but how did she miss 127 calls? The moment Clara walked into that little boy's apartment, I got the feeling something happened to her.
That's not to say I knew she was a Zygon replica, but something with her was off all episode. Is that how we lose Clara, to the Zygons? I mean, Amy and Rory Pond had a sad yet wonderful exit. I can't believe this is how we say goodbye to Clara.
The answer may lie in Clara's question about Missy offing Osgood.
Clara: So Osgood's been kidnapped, right? I thought Osgood was dead.
Kate: There have always been two of her, ever since the cease fire. We never knew which one was real.
The Doctor: Both of them.
Kate: Okay, which one was Zygon.
The Doctor: Both of them. They would have maintained a live link. They were both Zygon and human at the same time.
It makes sense, that's how Clara's doppelgänger picked up right where she left off. Remember, it was Bonnie that asked about the Doctor Disco thing. Anyway, it's all rather hard to wrap your head around. I assume one of the Clara's will die next week and her "sister" will suffer a depression similar to Osgood.  
The Doctor kept protecting the Zygons, blaming the "splinter group" but I think he got mankind into this whole mess. So, Kate made her way to the States (which stalled for me) and the President of the World hopped on his plane. Capaldi was acting a bit sillier than usual, which didn't play well against the whole "Nightmare Scenario."
We mentioned in this week's Round Table that the difference between last season's Doctor and this one is too extreme. What do you guys think?
Walsh tried to set the Doctor straight, but the gas seemed a little extreme.
Any living thing in this world, including my family and friends could turn into a Zygon and kill me. Any second now. It's not paranoia when it's real.

Walsh
Was Walsh referring to the splinter group or lumping all the aliens together? The Zygons weren't killing their doppelgängers, but rather taking them underneath London, right? The installment was hard to follow, perhaps I was dozing off. Still, the aliens definitely killed Walsh's troops.
Why would that one soldier believe his mother was out there, in the middle of nowhere? The whole situation was illogical, those troops should have known better.
The Doctor located Osgood, and asked which version she was. Didn't he just tell everyone they're both Zygon and human at the same time? Osgood confirmed she's a hybrid, but explained the rules had changed. She didn't need info from the original anymore, so she remained in Osgood's form.
Clearly, we're going to deal with this again with the Clara/Bonnie reveal. Looks like the Zygons have the upper hand leading into the second part. UNIT's out of the picture, what's the Doctor going to do now?
What did you think of "The Zygon Invasion"? Did the Clara twist surprise you? Are Clara, Kate and all of UNIT dead? Is Osgood truly a hybrid? Go ahead and sound off in the comments below Whovians. Keep an eye out for our Doctor Who Round Table later this week.
Miss an episode? Don't forget you can watch Doctor Who online anytime at TV Fanatic.
NOTE: Doctor Who Season 9 Episode 8 is titled "The Zygon Inversion" and airs on Saturday, November 7.