Talk about an awkward dinner party.
On Grey's Anatomy Season 12 Episode 5 Callie shows up to Meredith's house with her new girlfriend, who turns out to be the doctor that couldn't save Derek. The whole thing is pretty painful to watch.
It's really an interesting way to bring up Derek's death again, which is something that needs to happen. The worry after the loss of any main character is that the story will just move forward and they'll be forgotten.
Derek's death, however, still remains an important part of the story. It's also become an important part of Meredith's character. It's because of this that we've gotten to see her grow and change in new ways. It's also the reason she's back in her old house.
Meredith has been handling things well ever since she returned. She's staying tough, doing great at her job, and she's been moving forward. But being faced with this person, that one person who gave her that terrible news, that changes everything.
To make matters worse? It looks like Penny is going to be sticking around.
This season of Grey's Anatomy has been strong so far, but this feels a little too forced. It's hard when any new character comes on the show, especially since the cast is already so large, but now we've got a character who will always be remembered as the person who killed Derek.
I mean, that's a heck of a coincidence. I don't see it being any fun at all to watch Penny struggle to develop working relationships with the doctors after she's just told them all how she couldn't save Derek. I'm afraid the lighter tone we've been enjoying so far during Grey's Anatomy Season 12 isn't going to last.
That's certainly the case here, with both Meredith and Amelia lashing out in painful ways.
I did nothing to you. I lost my husband and the father of my children, and you're falling apart? I don't get to do that, because I have three kids. So please shut up, and get out of my room!

Meredith
Add to that Owen's confession about Cristina, and things have gotten dark again quickly.
That, by the way, is one of the most interesting scenes in this episode. First of all, it's nice to have a reminder about another character that is no longer a part of the cast, but it's also a reminder about Owen's complicated relationship with her. It's also nice to see Owen and Amelia working toward having a relationship, though it's happening at a snails pace.
The moments with Maggie and Andrew offer some comedic relief, but their also important. Maggie worries with her UTI that Andrew is a man who sleeps around, but when she confronts him with that concern (awkwardly, while she's at the hospital to be tested) he points out the gender stereotype associated with that idea.
His point is a good one, which Maggie realizes, and Grey's Anatomy wins again in making an important point about society.
Other Thoughts:
This whole thing with Stephanie and Jo has become insufferable. There has to be something else for these characters to focus on.
Drunk Arizona is amazing. More of that in the future, please!
We're treated to ANOTHER odd cover of a TLC song. This time, it's "Waterfalls."
What did you think of this episode of Grey's Anatomy? Share your thoughts in the comments below!
Need to catch up on past episodes? You can always watch Grey's Anatomy online right here via TV Fanatic!
And don't miss Grey's Anatomy Season 12 Episode 6, airing November 5th on ABC.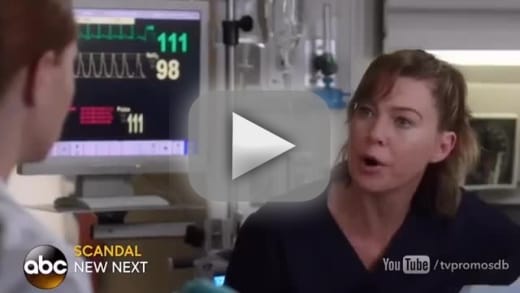 Ashley Bissette Sumerel was a staff writer for TV Fanatic. She retired in September 2017. Follow her on Twitter and on Google+.