It really feels as though we're hurtling toward the end of the Troubles, doesn't it?
On Haven Season 5 Episode 17, the Sandman got his hands on Audrey with the intention of making her his, but instead, he reinforced the bond she shares with Nathan and her mother, Charlotte. That's gotta hurt.
There wasn't a whole lot of story to this particular installment, but it was beautifully filmed, and gave us an idea of what we might see if Audrey and Nathan get the opportunity to tie the knot.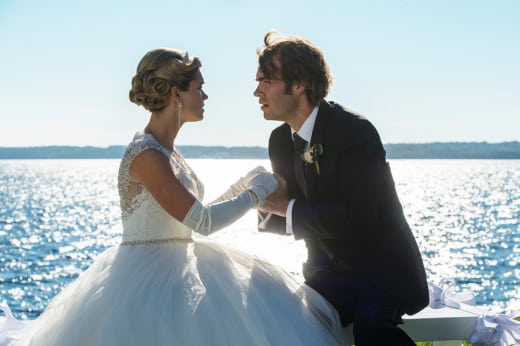 I wondered what happened to the people who entered the Sandman's stasis, and it turns out it wasn't all that bad, if you were willing to give up your own views of the world and become his puppet. It was sad to see people succumb merely because they refused to give into his will. Especially Grayson, after all he did for Audrey, I was pulling for him to come out swinging.
Was seeing a wedding an indication that we may see the wedding before the series ends? If one thing is certain, Haven is a seriously beautiful location to have one. Audrey also makes an incredibly lovely bride. The scene when she discovered the truth about Henry and recalled loving Nathan was quite the site to behold.
Any worries about Charlotte and her love for Audrey, who became her daughter only through some really strange happenings thanks to Mara, need no longer fear that she's on the up and up. All of their scenes together were well acted and full of emotion. Audrey has made an impact on so many different people, even the woman who didn't give birth to her. That's quite a feat.
Meanwhile, Duke was out in the world trying to find his way back to Haven. It seems that just like the entire world is in stasis when it comes to Haven, but if you poke long enough, the memories break through. 
Seth Byrne of the Darkside Seekers was always a favorite, so his arrival is probably the best thing that has happened since this whole Duke walks out on Haven storyline began. If it means bringing him back into the fold for a while, or even to ride it out until the end, then I'm all for it.
So when are we going to get our first look at William Shatner? And when will the Colorado Kid turn up again? I'm ready to dig in, especially since Audrey and Charlotte are going to be working with the aether now to find a way to end the Troubles. Can you imagine a regular Haven, Maine? Maybe that's what it will take for Duke to find his way back. HA!
Well, what did you think of "Enter Sandman"? Hit the comments and let me know what you're looking forward to as the season progresses, and be sure to tune in for Haven Season 5 Episode 18 up next!
And remember, every episode is available online for rental and purchase the day after it airs, so make sure you watch Haven online – we make it easy with all the best links for you to do so!
Carissa Pavlica is the managing editor and a staff writer for TV Fanatic. She's a member of the Critic's Choice Association, enjoys mentoring writers, cats, and passionately discussing the nuances of television and film. Follow her on Twitter and email her here at TV Fanatic.