Things have changed in two years.
That's the time that has passed bringing us up to events taking place on Homeland Season 5 Episode 1. Saul is in a position of respect within the CIA once again, Quinn has returned from his 28 months "in the shit" leading a special ops team in Syria, and Carrie has joined the civilian life, with all the normalcy it entails.
For all that has changed in two years, it's very easy to see that once these three people come back into each other's orbit, it's highly likely that they'll find old habits die hard, especially for Carrie Mathison.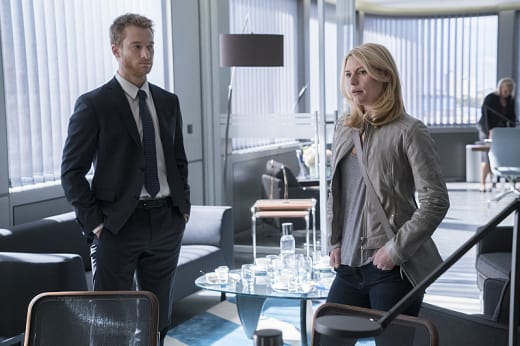 Because, certainly, it's Carrie's life that has changed the most. She stands to lose the most if she gets dragged back into the world of espionage and terrorism. 
Saul seems hardened, more determined and without the softer side that was so easy to support when the going got tough. The man who broke when captured and thought death was the easiest way out doesn't seem to exist any longer.
Quinn's worst nightmare has come true. He's total darkness, a killing machine. Even when faced with the prospect he no longer has the backing of his or his host country to carry on his mission, he will do it anyway. Perhaps it's the only way he feels alive, taking lives of others. Going into "the shit" didn't do him a whole host of good, but still, his is a voice of reason.
When asked if what they're doing in Syria is working, he goes off book. He knows he is merely towing a line without a strategy. If they'll tell him what the strategy is, he'll be happy to let anyone know what's working. However, he clearly knows the objective and strategy of his enemy, spelling it out with horrifying precision. He also gives to alternatives to clear things up. Neither are appreciated.
Through these three characters, Homeland Season 5 is opening up to viewers the current state of world affairs, including talking points on Syria, the mass exodus of refugees, international security and wikileaks and more. If you were concerned moving away from the hot zone of the middle east would cause a decrease in dramatic tension, those worries can safely be stored away.
Carrie's character progression is so interesting, and it makes what happens in the premiere somewhat unsettling, given how hard she has tried to step away from her former life. She's not only unwittingly tied to reporter Laura Sutton because she was asked to vet the leaked documents (she refused), but she's asked to walk into a war zone as protection with very little preparatory time.
Either of the two things alone might have been enough to weather, but together they put her right into the crosshairs of CIA Station Chief, Allison Carr. It just seems too fortuitous to be asking for help navigating Hezbollah and siding up with a woman exposing the American and German secrets of espionage at the same time.
Carrie is in a solid relationship, going to church, seemingly staying away from alcohol and being a good mother to her daughter, Franny. She's walking the straight and narrow. Yet when she's in a dark tunnel suggesting her request for safe passage to Lebanon be taken to the appropriate council, you can feel her tingling with electricity. There's no fear, but rather a spark. She's coming alive, despite her better judgment. A part of her misses the life. How could she not?
I've seen the first three installments, and the premiere merely sheds light onto new the new path. Homeland has taken us to some dark and mysterious places in the past, but Homeland Season 5 promises to go darker and deeper. The door has opened and the new world is stunning.
What did you think of "Separation Anxiety"? Does the time jump and the move to Berlin work for you? What do you think of the head space of the characters we've come to know and love? Chat about it in the comments, and be sure to come back next week for Homeland Season 5 Episode 2 to find out how Carrie handles being back in a war zone.
Carissa Pavlica is the managing editor and a staff writer for TV Fanatic. She's a member of the Broadcast Television Journalists Association (BTJA), enjoys mentoring writers, wine, and passionately discussing the nuances of television. Follow her on Twitter and email her here at TV Fanatic.