Gibbs and Tony had some tense moments during their pursuit of a drug dealer, culminating in a head-to-head confrontation in which Gibbs asked Tony if he truly wanted to be a leader.
NCIS Season 13 Episode 2 provided all kinds of curious questions and mysteries regarding Gibbs, his new style and his mindset.
Below, TV Fanatic panelists Christine Orlando, David Taylor, Kathleen Wiedel and Douglas Wolfe explore all of these questions in this week's NCIS Round Table. Ready to join in the discussion?
How would you describe this episode in a few words or sentence?
Christine: Team Work Makes the Dream Work.
David: The elephant is still in the room.
Kathleen: Remember the other guy.
Doug: What does a leader look like?
What was your favorite scene?
Christine: I loved when Tony finally broke down and told McGee and Bishop who Mitch really was. They are more than a team, they are family and secrets just eat away at them. Tony felt so much better after telling them the truth about what was going on.
David: I liked that scene too, until Tony found out who Long really was and went one better by getting in Gibbs' face and suggesting that Gibbs and Mitchell were out for revenge.
Kathleen: For me, it was the scene Christine mentioned, with Tony reading everyone in on the truth about Mitch.
Doug: I felt the joy and pain of Gibbs' loss when he ran his fingers over Kelly's cement scrawlings.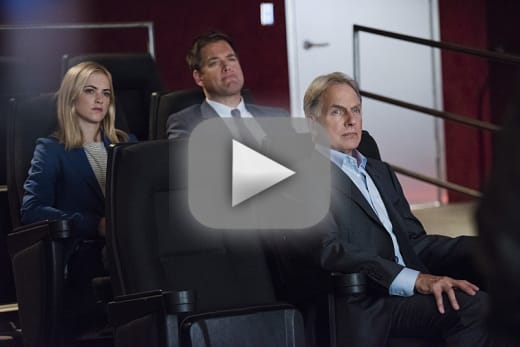 What exactly does Gibbs expect from Tony and is Tony ready?
Christine: I think it's a combination. He wants to make sure Tony isn't giving anything up by staying with this NCIS team and possibly playing second fiddle to him and yet at the same time he wants to be sure that Tony is ready to take over because Gibbs may not be able to lead after his injuries. It's definitely complicated.
David: I agree with Christine. This is the first time (at least that I remember) Gibbs mentioned that Tony previously turned down the opportunity to lead his own team. I think Gibbs needs to figure out why Tony might be afraid to step up. Could we perhaps be in for a visit from Dr. "Kate's Sister"?
Kathleen: Tony is certainly capable of running his own team – we've seen it before – but he seems quite comfortable in his current position as Gibbs's second. Gibbs may also be concerned that Gibbs himself might be holding Tony back, that Tony is sublimating his own ambition in favor of loyalty to Gibbs, or (even worse) concern for Gibbs's welfare.
Doug: The only thing I can think of is Gibbs wants Tony to stop focusing on him, and start focusing on the team more. Becoming a leader to them. You can tell Gibbs is frustrated but I get the sense it goes beyond mere personal frustrating with Tony being a mother hen to him; he's looking for something more. To be honest, I'm still in the dark on it. I like what Christine said though, and hope that's true.
Yeah, Tony is more than ready to take the lead, if it comes to that.
Ducky was rather cryptic when he said "Perhaps this new found view of yours is accurate. But you must respect that others may need time to see it as you do, even Anthony." What exactly did he mean by that? What mindset?
Christine: Gibbs is definitely looking at things from a different point of view, maybe a more personal one. To be honest, I'm trying to decipher the new Gibbs as much as anyone on his team.
David: Ducky's a profiler so I think he's seeing a side to Gibbs that isn't very evident to the rest of us...well, at least not to me...yet. However, Gibbs' donning "office attire" would seem to suggest that he might be planning a transition out of the field, even after he recovers from his injuries.
Kathleen: I think David has a point: Gibbs is still hurting from his physical injuries, and he isn't a young man. There will come a point when even he must retire from the field. He may be trying to mentally prepare Tony for this.
Doug; The fact that Ducky related Gibbs' "new found view" mimics his own is what made this so puzzling. The only thing that comes to mind is that Ducky once said he didn't want to end up like Gibbs (which he why he stopped dating at all). Maybe Gibbs has finally realized that he hasn't really been living, and that a social life outside of work might be worth pursuing.
It might be too early to say but give your best guess as to what you expect to see play out between Gibbs and Tony as the season progresses.
Christine:  I'm expecting Gibbs to push Tony to step up in both his personal and professional lives. Gibbs lost his family and put everything into his work. Tony's never had a family and he's not getting any younger. I think Gibbs wants to make sure Tony doesn't try to emulate him so much that he misses out on anything.
David:  As I alluded to in my response to #3, I think Gibbs is gonna test Tony in some way and force Tony to make a choice about his desire to be a leader.
Kathleen: I agree that Gibbs probably wants to see Tony step up more and more, taking on greater responsibilities and challenges, both professionally and personally. Gibbs has acknowledged in the past that he, Gibbs, is a terrible personal role model, hiding in his basement alone and living off bourbon and coffee. Hopefully, Tony will take the lessons to heart.
Doug: Maybe Gibbs wants Tony to take some of his burden so that he can actually pursue a life outside of NCIS. I hope that's the case, and I hope it means Gibbs will finally relax a bit. His wardrobe change kind of hints at that. Perhaps Vance will move on, Gibbs will move up (and become more desk-bound, which I'm certain will please him), while Tony takes over as the team lead.
Come back next week when we discuss NCIS Season 13 Episode 3. We can't wait!
Douglas Wolfe was a staff writer for TV Fanatic. He retired in 2016. Follow him on Twitter
.