Scorpion Season 2 Episode 5 Review: Super Fun Guys

Allison Nichols at . Updated at .
Team Scorpion needs to go undercover in crazy costumes more often.
On Scorpion Season 2 Episode 5, Team Scorpion went undercover as the team from Super Fun Guys. It was just about everything I'd always wanted in life. You know what would have made it better? If Sylvester was there!
Sylvester not being there was unacceptable. I'm sorry but just picture Sylvester going from super serious Scorpion work, and then his flailing whenever he finds himself on the set of Super Fun Guy. We could have had it allllll!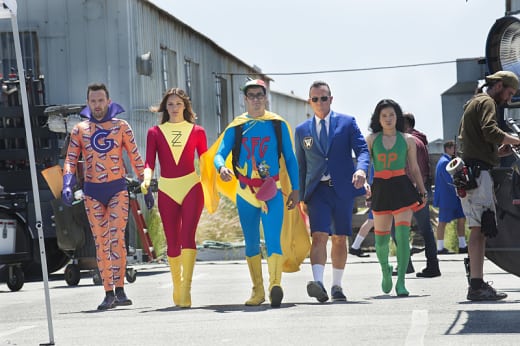 Megan and Sylvester are super cute. I just needed to say that before I get to the "but."
But, this secret surgery wasn't interesting. Sure, there were one or two cutesy moments, but that's all the storyline had to offer in the plus column. It was a way to keep Sylvester grounded. He could have been a lot more entertaining if he was with the team. 
Happy: You are not part of Scorpion.
Ray: But I live here.
Happy: So does a possum in the rafters.
On top of that, Megan asked Sylvester to keep this huge secret from Walter, and she didn't seem to register that it was kind of a crappy thing to ask of Sylvester. Walter is her brother, and one of Sylvester's best friends. Sure, Walter probably isn't the one you want by your bedside for comfort, but he deserved to know.
What if something went horribly wrong with the surgery? Yes, that is where my mind went. Sorry, but on TV if someone goes into surgery and wants to keep it a secret from family, then yeah, they probably aren't making it off the table. Maybe I watch too many dramas... Should Megan have told Walter about her surgery?
Okay, Sylvester staying behind did lead to some great moments. Walter brought Sylvester a gift, and he was even aware enough to know that Sylvester was struggling with something. It was a huge moment for Walter.
But more importantly, this moment happened with Sylvester. Don't get me wrong, Waige is cute and all, but we need to focus more on Walter's relationship (and all the relationships) with the Team Scorpion geniuses. 
They were a team before Paige and Cabe showed up, but sometimes we don't really focus on the bond shared by Happy, Toby, Walter, and Sylvester. Walter and Sylvester haven't spent a lot of time together, and it was great to see them have a friendship moment.
As much as it pains me, Toby's not wrong about his Happy addiction. He can't just be friends with her. His heart isn't hardwired that way.
Several times today I realized that I can't just be friends with her. I am an addict. First with gambling, then with her. To her it's wiring a dollhouse, to me it's an alcoholic just rubbing his lips against the beer bottle. I can't do it.

Toby
You know what they say, the first step is admittance. But is cold turkey the answer? Probably not, especially because how can you quit someone cold turkey when you work with them? Yeah, not sure if Toby thought that one through.
There are a lot of great things about Toby's decision. For one, it puts the ball in Happy's court. She will obviously have some kind of reaction to Toby's lack of flirtations, and if we're lucky, a couple people will talk to Toby and maybe Happy about this decision that Toby's made. 
What did you think of the episode? Would you have rather seen Sylvester with the rest of the team or did you enjoy him at the garage with Ray? Leave your thoughts in a comment below.
Remember you can watch Scorpion online anytime via TV Fanatic.