Significant Mother Show Creators Tease Funny Homages, the Big Break Up

Christine Orlando at .
Rich Keith and Erin Cardillo were asked to write a web series for the CW Seed. They took that opportunity and turned into a sitcom that's not only fun, but has lots of heart. 
Read on to find out how their web series became the CW's Significant Mother, their original feelings about the concept, why they chose Portland as a location and what we can look forward to if we get Significant Mother Season 2!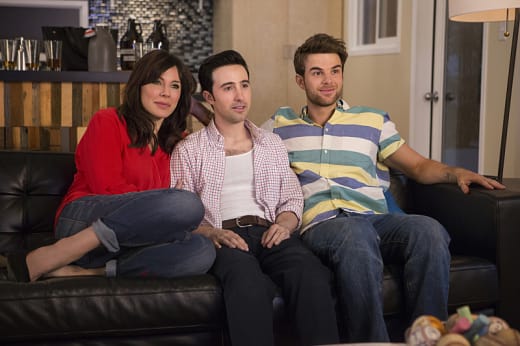 First, I have to say that I'm a big fan of Significant Mother. I wasn't sure what to think of the concept when I first heard it, but it's turned out to be not only funny, but it has a real quirky, sweet side as well. Was that something you were hoping to achieve when you started on this project?
Erin: It was. You know when we first heard the concept, we weren't excited about it either.
Rich: I thought the same thing. I just wasn't sure about saying that out loud but, yeah, you're right.
Erin:  The concept was pitched to us by a production company and they said, 'here's the concept: a guy dates his best friend's mom.' We were like, Oh, that's weird. But we really wanted to work with them, and we thought we could do something really cute with it, so the intention was to take the concept and go beyond it and really create a show about a family that really loves each other and they're all just trying to figure it out. 
Had the two of you worked as a writing team before this?
Rich: Not in the paid sense, but we developed a few things.
As a writer I completely understand that.
Rich: Yeah, it all depends on your definition of the word work. 
Erin: We worked on a few things together before, but this was the first thing that hit… We're a fairly new writing team, but this was our first break.
This was originally supposed to be for the CW Seed, CW's online web series. What did it take to transform it into a TV series?
Rich: We developed the show in a way that we thought could be moved easily or actually, directly to television. What we did as a web series was we did three 22 minute episodes that were able to be cut to 11 minute episodes for the web with a to be continued in the middle. So we kind of formatted them for TV optimistically when we did the web series, and thankfully, that panned out. Actually, we had to recast one of the roles, but almost half of episodes one and three are from the original series. 
Why did you choose Portland as your location?
Erin: We were looking for a foodie city since we wanted to make Nate a restaurateur. We were looking for a young, hip city where food was at the forefront of the culture, and Portland is one of those places, and Rich had worked there before.
Rich: Yeah, I had done an indie film here a few years back, which oddly, Portland's very small, especially the entertainment community, so about half of the crew from that was our crew on the digital series or the TV series this year. So I did that movie and just sort of fell in love with the city, and when we started talking foodie, I was adamant that Portland would be the right place to do it. 
How many of the episodes were written by just the two of you?
Erin: We wrote seven out of the nine episodes, well, maybe seven and a half. Then we had two freelance writers. Katie Schwartz (Significant Mother Season 1 Episode 6) who was fantastic and then a writing team of Amanda Pomeroy and Alexandra Safford who cowrote Significant Mother Season 1 Episode 7 with us. 
I have to ask, who comes up with Sam's songs?
Erin: Rich and I write the lyrics for those songs and then Emma Fitzpatrick, who plays Sam, writes the music, and it's been a really fun collaboration with her. 
What's been your favorite moment or episode of the show so far?
Rich: I think one of my favorite moments was from this week's episode (Significant Mother Season 1 Episode 8) where they're sabotaging the open house and Emma fakes a possession, just because when we were shooting it, it was the first time that it really clicked that all this loony stuff we were doing was really going to be on TV, including Emma pretending to be possessed by the devil for her friends.
Erin: For me, I loved the homages that we've been doing. I really loved the Weekend at Bernie's homage (Significant Mother Season 1 Episode 4), made even better by the fact that we had Terry Kiser (who played Bernie in the film) to come up and play with us which was so much fun. And then this episode 9 coming up, in the finale, we do a Back to the Future homage which might be one of my favorite things from the season. 
Now as actors, you've both had roles on many other TV shows. What was your favorite or most memorable…not including the roles you've played on Significant Mother?
Erin: I really enjoyed being the girl with the broken leg on How I Met Your Mother. It was really one of my favorite moments. So silly. It was Marshall's bachelor party episode and my name was Treasure! (How I Met Your Mother Season 2 Episode 19, Bachelor Party).
Rich: I think my favorite one, not that it's the one I'd be the most excited for people to watch because I don't expect anyone to go back and watch one random episode of TV, but I did an episode of Veronica Mars (Veronica Mars Season 3 Episode 11, Poughkeepsie, Trans and Thieves) and the director on that episode (John T. Kretchmer) was just awesome and the whole cast was really cool. I'd never gotten to be a series regular on a show, and they treated everybody so well on that set that it was the first time I felt like I was really a part of a show. 
OK, I have to say this…Jimmy broke up with Lydia! How could you?!? Now that I've gotten that out of my system, what can you tease us about Monday's season finale?
Erin: I know! I think you're going to find out what happened and why Jimmy broke up with Lydia, and we're going to see whether or not he can get over some of the issues he's having and kind of step up and be a man. We'll see if that happens. 
Rich: Sam has a full length song, so that's cool. Also, it continues from last week's episode.
Erin: Yeah it kind of picks up where we left off. 
Any word about getting picked up for season 2?
Erin: We have not heard anything yet except for the fact that the network really loves the show, creatively. I think now it's about ads and whether or not it's making enough money, and I think that's a very complicated equation, and it might take a minute for them to figure it out. 
Where do you see these characters moving forward?
Erin: We leave off season 1 with sort of a teaser of where we'll go, and you'll see in the season finale at the end what we're setting up for the next season. What I think we want to play with is the idea of…we want to play with Harrison and Nate's relationship. In a way, we've kind of dealt with Lydia and Nate's relationship in season 1 and we definitely want to figure out and go a little bit deeper into the Sam and Nate, the will they/won't they, the love triangle with Atticus and play that out more. 
Rich: That was a good serious answer. I keep telling everybody I want to do a Goonies episode in a continuation of our homages. There are tunnels that run under Portland that they do tours of and I don't know why but I think they shot Goonies in Oregon so I just really would like to do a Goonies episode. 
Make sure to tune in tonight for Significant Mother Season 1 Episode 9, the season finale and if you want Jimmy, Lydia, Nate and the gang's story to continue, let the CW know you want Significant Mother season 2. 
C. Orlando is a TV Fanatic Staff Writer. Follow her on Twitter.